Superhero Bits: The Dark Knight Rises, The Avengers, Deadpool, Batman Beyond, Ghost Rider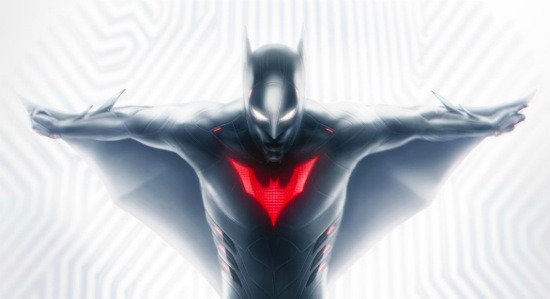 Which former WWE wrestler plays one of Bane's henchman in The Dark Knight Rises? Why does Anne Hathaway think her Catwoman is so different from every other one before her? Is there a reason girls are forced to buy pink toys while boys can buy superhero toys? What do Super Mario Bros. and Alan Moore have in common? Who owns the rights to Ghost Rider and which superhero movie was nominated for four People's Choice Awards? Read all of this and more in today's Superhero Bits.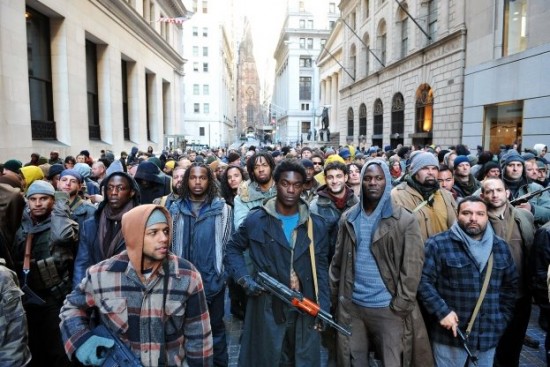 According to What Culture (via CBM) TNA Wrestler D'Angelo Dinero, aka The Pope, aka WWE's Elijah Burke, and he's playing one of Bane's henchman in The Dark Knight Rises. He's above.
Anne Hathaway spoke to the Los Angeles Times about her influences playing Catwoman (Hedy Lamarr, for example) and why her Dark Knight Rises Catwoman doesn't actually have to be the same as the ones who came before it:
What's come before doesn't limit or even affect this new version. It doesn't affect me because each Catwoman – and this is true in the comics as well – she is defined by the context of the Gotham City created around her. Catwoman is so influenced by Gotham and whoever is creating Gotham at the time. Michelle Pfeiffer's Catwoman was informed by Tim Burton's Gotham and Eartha Kitt was informed by Adam West's Gotham. You have to live in whatever the reality of the world is and whatever Gotham is.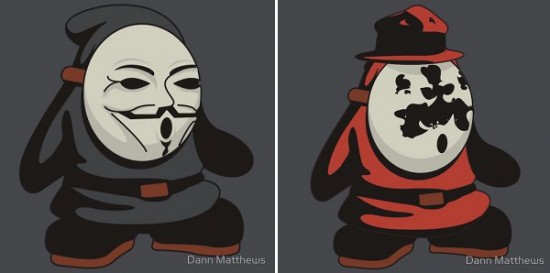 Super Mario meets Alan Moore in these t-shirts at Gamefreaks (via Fashionably Geek).Marvel recently won a lawsuit that was filed against them in regards to the Ghost Rider character and whether or not former Marvel writer Gary Friedrich owned the rights. Read more at The Associated Press.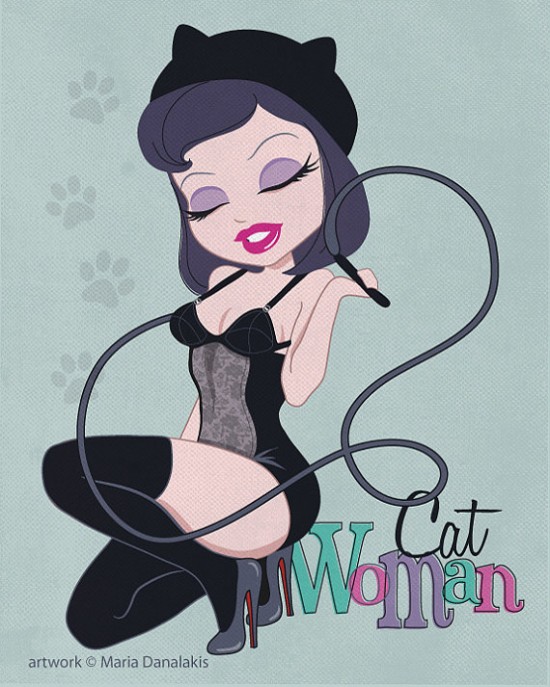 Artist Maria Danalakis puts a unique pin-up spin on the female hero. Check out more of her work here (via CBM).
X-Men First Class is up for four People's Choice Awards: Favorite Action Movie, Favorite Ensemble Movie Cast, Favorite Movie Superhero: James McAvoy (Professor X) and Favorite Movie Superhero: Jennifer Lawrence (Mystique). Thanks to Comic Book Movie.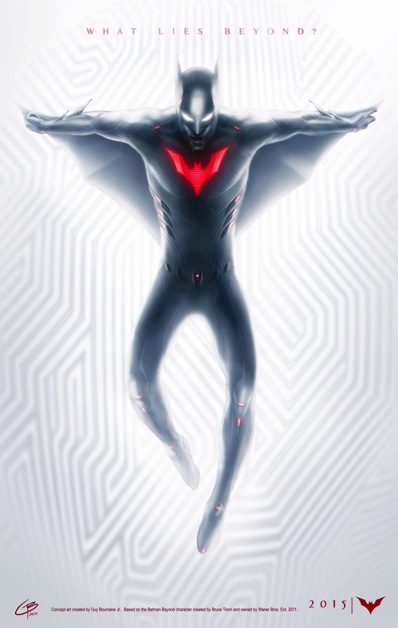 Geek Tyrant posted this awesome Batman Beyond fan poster by Guy Bourraine Jr. Visit there for a bigger version.Comic Book Movie reminds us that yesterday, when I didn't do a SHB, was Stan Lee's birthday.
Due to the amount of graphics and images included in Superhero Bits, we have to split this post over TWO pages. Click the link above to continue to the second page of Superhero Bits.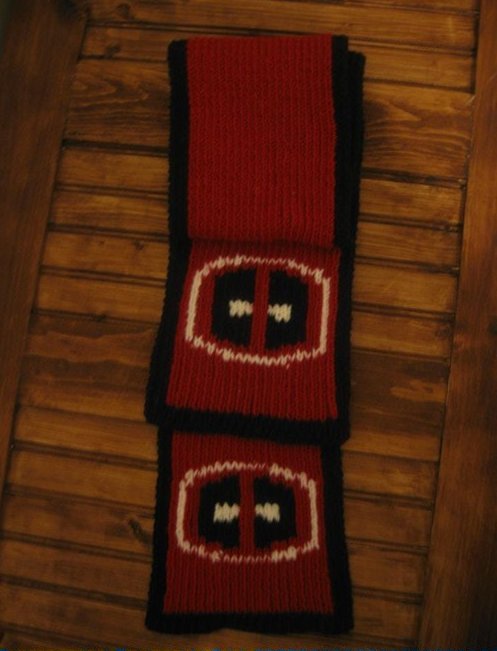 This is a Deadpool scarf from Superheroes (via Fashionably Geek).
The above video is a few months old and only tangentially superhero related, but I thought it was funny and adorable and I hadn't seen it so screw it, it's my column. It's a young girl asking why boys get to buy superhero toys while girls are forced to buy pink princesses. Thanks to Laughing Squid for this recent reminder.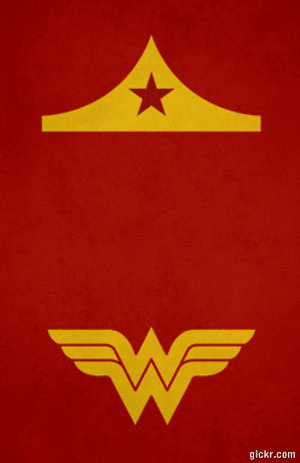 Cool looking logo GIF from Superheroes.
Comic Book Movie did a very detailed post on all the rumors and spoilers that have popped up in regards to The Avengers over the past year. Obviously, possible spoilers abound.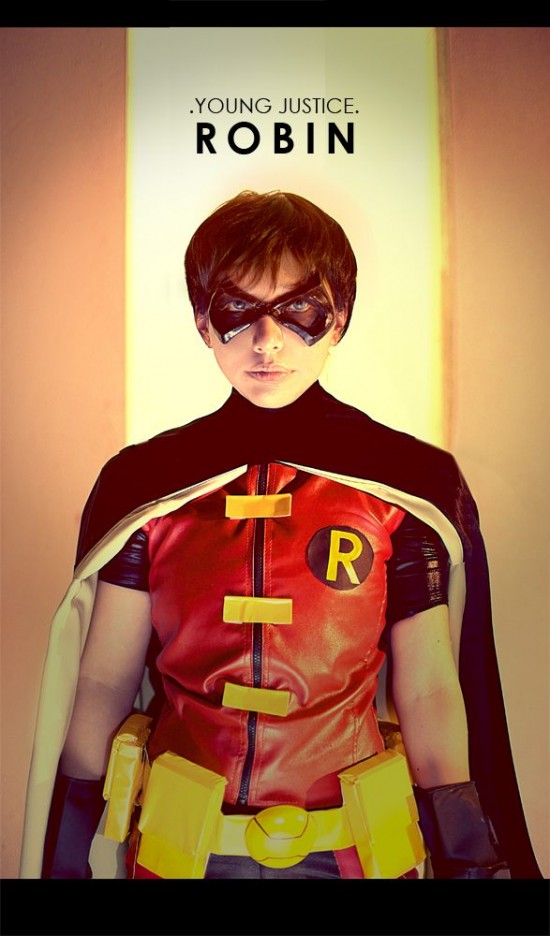 Very detailed Robin cosplay from Charmaine over at Super Punch (via Geeks Are Sexy)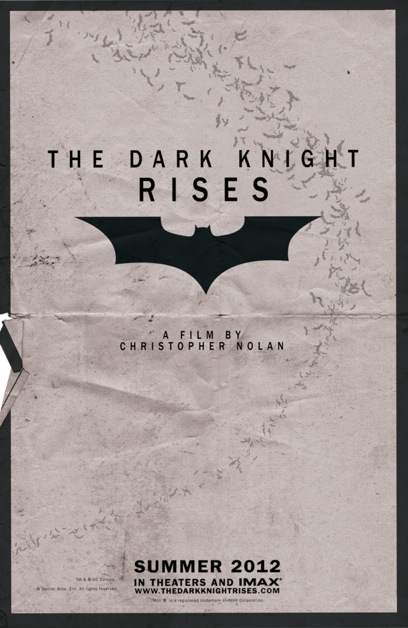 Finally, /Film reader Garret R sent in two Dark Knight Rises fan posters he created. There's one above, the other is here.