Trivia: Jennifer Hudson Turned Down 'Precious'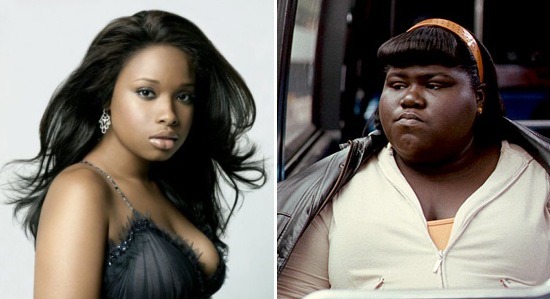 Gabourey Sidibe was a complete unknown when she beat out hundreds of other candidates in a nationwide casting call for the lead role in Lee Daniels' Precious, but that quickly changed once the film actually came out. The young star garnered tons of acclaim for her fearless performance, including an Oscar nomination for Best Actress, and now it's tough to imagine anyone but Sidibe ever playing that part. Like, say, Jennifer Hudson.
In a new book, the Oscar-winning Dreamgirls star reveals that she was asked at one point to audition for the role, but turned it down because she didn't want to gain the weight. More after the jump.
I can't blame Hudson for not wanting to bulk up for the gig. Though we're used to seeing actors gain or drop pounds for a role, the fact remains that it's not only difficult, it's actually pretty unhealthy as well. Not everyone is Christian Bale or Michael Fassbender, and not everyone needs to be. Still, it's interesting to imagine how Hudson's career path might have differed had she accepted that offer.
Instead, Hudson's actually set up a pretty nice gig not gaining weight — she dropped 80 pounds and is now a spokesperson for Weight Watchers. On the movie front, she's had roles in Sex and the City, The Secret Life of Bees, and the Winnie Mandela biopic Winnie. Her next project, The Three Stooges, doesn't look too great, but everyone's allowed a blunder or two.
Sidibe, meanwhile, starred in this fall's Tower Heist and is a regular on Showtime's The Big C. She's currently shooting Martin McDonagh's Seven Psychopaths.
Discuss: Did Hudson make a huge mistake, or do you think things worked out for the best for everyone involved? Hudson and Sidibe both seem to be doing just fine, so I'd lean toward the latter.