'Cloud Atlas' Concept Art Shows The Corporate-Run Future Version Of Korea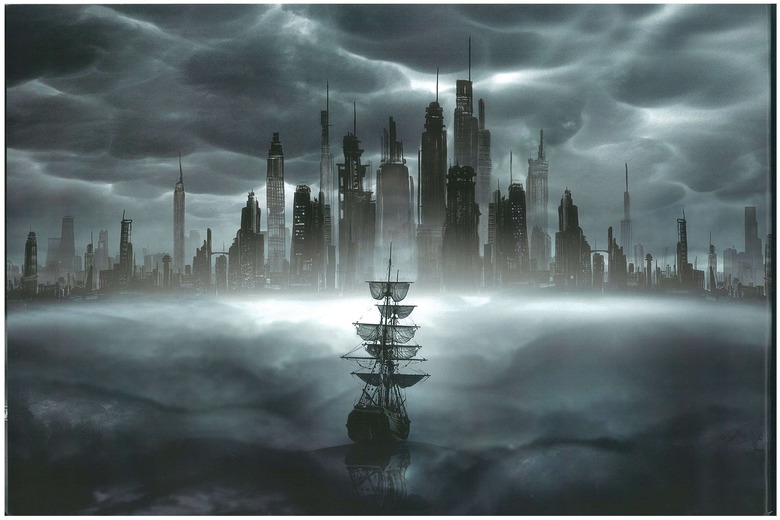 We've talked a lot about Cloud Atlas, which sees Tom Tykwer teaming up with Andy and Lana Wachowski to head up parallel film units each shooting three tales adapted from David Mitchell's novel. The cast is great (Tom Hanks, Halle Berry, Hugo Weaving, Ben Whishaw, Susan Sarandon, Jim Broadbent, Hugh Grant and Bae Doona) and we've gone over and over about how the actors are playing multiple roles, genders and races. It's big ambitious stuff, but if you haven't read the novel it might also be easy to get totally lost in all the explanation. (Having read the book, it becomes a lot more clear, I promise.)
We;ve seen a few on-set photos and recently got a production wrap photo that shows a few of the props and set dressing bits used in the film.
But how about a couple more images? There is now one shot that suggests a lot about how the book's six stories are being visually connected, as it shows the ship from the first tale seemingly approaching the dystopian version of Seoul, South Korea that is the setting for the fifth. There is also a great concept rendering of Seoul in the year 2144, complete with a high-speed pursuit in progress. And, as a bonus, we've got an actual shot of South Korean actress Bae Doona as she appears in the film. Check 'em all out below.
So here we've got Bae Doona as the title character from the story 'An Orison of Sonmi~451,' and the rendering of Seoul (called Nea So Copros in the novel) shows a highlight from the climax of that story. We'll see how the image featuring the ship and the city fits in, but I imagine we might see some other similar transitions between the film's various stories, the better to emphasize that there is one soul moving between all the tales.
Cloud Atlas is in post-production now and should be released late next year.
A reluctant voyager crossing the Pacific in 1850; a disinherited composer blagging a precarious livelihood in between-the-wars Belgium; a high-minded journalist in Governor Reagan's California; a vanity publisher fleeing his gangland creditors; a genetically modified "dinery server" on death-row; and Zachry, a young Pacific Islander witnessing the nightfall of science and civilization — the narrators of Cloud Atlas hear each other's echoes down the corridor of history, and their destinies are changed in ways great and small.
[Han Cinema, via Twitch]