Watch The Entire First Episode Of Showtime's 'House Of Lies'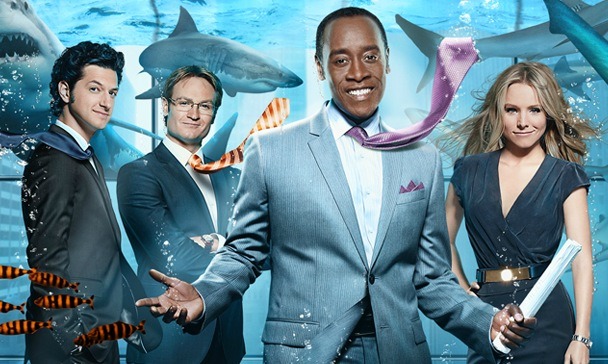 Dexter and Homeland ended their respective seasons last month, but the New Year brings some promising new reasons not to cancel your Showtime subscription just yet. Both Californication and Shameless are set to premiere this Sunday, as does the one I've really been looking forward to — freshman series House of Lies.
Based on a memoir by Martin Kihn, the series stars Don Cheadle as a successful but self-loathing management consultant, with Kristen Bell, Ben Schwartz, and Josh Lawson rounding out the cast as Cheadle's colleagues. The network has put the entire first episode online ahead of its January 8 debut, and you can watch it after the jump. Be warned, however, that although the video has been modified for nudity and language, it's not exactly workplace-friendly.
This isn't the first time Showtime's used this tactic to build buzz for its series. Both Dexter and Homeland benefited from having their first episodes made available for free online this past fall. Nor is Showtime the only network that's attempted to attract an audience this way; Fox did a similar thing with New Girl back in the fall with great results. We'll see if the strategy pays off for House of Lies as well.
House of Lies officially premieres Sunday, January 8 at 10:00 PM on Showtime.
Official synopsis:
Charming, fast talking Marty Kaan and his crack team of MBA-toting management consultants are playing America's 1 percent for everything they've got. They put the con in consulting as they charm smug, unsuspecting corporate fat cats into closing huge deals, and spending a fortune for their services. Twisting the facts, spinning the numbers, and spouting just enough business school jargon to dazzle the clients, there's no end to what this crew won't do to and for each other, while laughing all the way to the bank. Starring Academy Award® Nominee Don Cheadle and Kristen Bell, nothing is sacred in HOUSE OF LIES, a hilarious, irreverent send-up of corporate America today.