Teen Angst Abounds In New Hi-Res 'Amazing Spider-Man' Images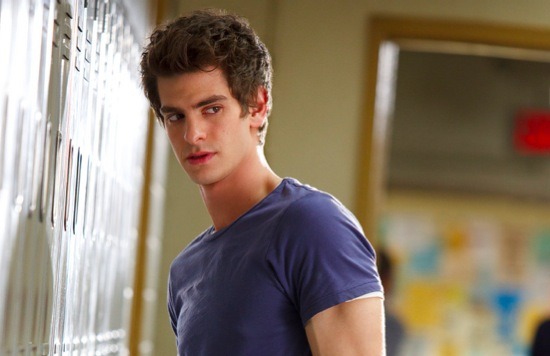 When the guy who directed 500 Days of Summer was hired to direct The Amazing Spider-Man, it was pretty obvious the relationship between Peter Parker and Gwen Stacy would be on the forefront. The footage screened at San Diego Comic-Con confirmed that fact and now, new photos of Andrew Garfield and Emma Stone from Marc Webb's July 3 reboot show the characters in very typical, teen settings. These are scenes in the movie you likely haven't seen much from yet. Check them out after the jump.
Thanks to the Spider-Man Facebook (via Comic Book Movie) for the photos.
As you probably read or watched when Sony gave their big Spider-Man presentation at Comic Con a few months back, the humor and awkwardness between the characters figures to be a big part of this new take on the webslinger. Most audiences, however, have still only seen the one trailer and that wasn't a big part of it. Sony is slowly revealing how they plan to sell The Amazing Spider-Man and photos like this are a good indication that the iconic image of Spider-Man himself won't be the only thing selling this film. Character and actors are a big part of it too.
Here's the latest plot description of The Amazing Spider-Man. What do you think of these photos?
Like most teenagers his age, Peter is trying to figure out who he is and how he got to be the person he is today. In his journey to put the pieces of his past together he uncovers a secret that his father held...a secret that will ultimately shape his destiny as Spider-Man. This is the first in a series of movies that tells a different side of the Peter Parker story. On July 3rd, 2012, the untold story begins. And starring Andrew Garfield (Peter Parker), Emma Stone (Gwen Stacy), Denis Leary (George Stacy), Rhys Ifans (Curt Conners), Martin Sheen (Ben Parker), and Sally Field (May Parker), directed by Marc Webb, The Amazing Spider-Man movie is swinging into theaters in IMAX 3D!