'Bad Ass' Trailer: Danny Trejo Is A Fightin' Meme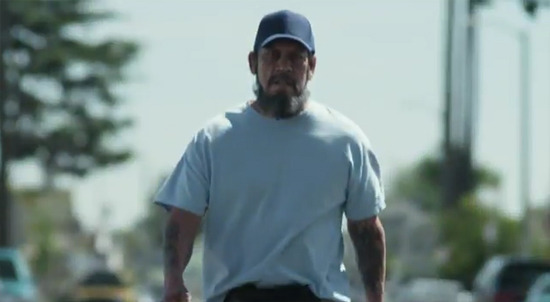 You might remember Epic Beard Man, who achieved instant internet fame in early 2010 when a video was posted of him kicking the ass of a guy on an Oakland city bus. Now — and this isn't a joke — the incident has been turned into a movie that looks like it has elements of Machete and Hobo With a Shotgun, in that Danny Trejo plays a bearded old dude who becomes a local icon after beating down a couple skinheads on a bus. And then... he fights for justice! Or something.
See a trailer for the film, which is simply called Bad Ass, below.
Anyone who remembers the original Epic Beard Man video (embedded below) will notice that a few things have been changed here.The bus fight has been made less complicated — there won't be any wondering about whether it is racially motivated with this version. And while the real Epic Beard Man, actually Thomas Bruso, has been known for being an antagonistic personality around Oakland, the Danny Trejo version is, almost ironically, a more clear-cut hero.
Bad Ass doesn't have a release date yet. But it does have Charles S. Dutton and Ron Perlman.
Decorated Vietnam hero Frank Vega returns home only to get shunned by society leaving him without a job or his high school sweetheart. It's not until forty years later when an incident on a commuter bus (where he protects an elderly black man from a pair of skin heads) makes him a local hero where he's suddenly celebrated once again. But his good fortune suddenly turns for the worse when his best friend Klondike is murdered and the police aren't doing anything about it.