'Bel Ami' Trailer – Robert Pattinson Sleeps His Way Through 19th Century Paris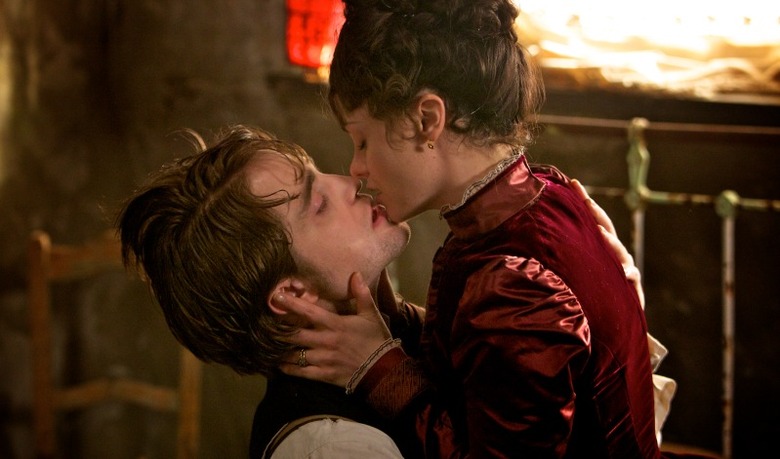 It took Robert Pattinson three and a half movies to getting around to bedding his lady love as Edward Cullen in The Twilight Saga (oh, um, spoilers), but as the lead of Declan Donnellan and Nick Ormerod's Bel Ami, Pattinson more than makes up for lost time. Based on a novel by Guy de Maupassant, the drama follows a poor young man who climbs the ranks of 1890s Parisian society by calculatedly seducing its wealthiest and most influential women. Among his conquests, apparently, are Christina Ricci, Uma Thurman, Kristin Scott Thomas. Watch the trailer after the jump.
[via The Playlist]
Though I'm not a Twilight fan, I'm not a hater, either, and I with nothing but the best for Pattinson and his co-stars in their post-Twilight careers. So I don't think it's my bias that has me believing his performance looks pretty bad here. I like the brief glimpses of Pattionson as the rakish Duroy, since those seem like a nice change of pace from the angsty types he's become known for, but the more serious, emotional moments in this trailer all left me cold. (The "I've been a fool" line reading in particular had me rolling my eyes. Or maybe the dishonest Duroy's supposed to sound utterly insincere?) On the plus side, at least it looks really pretty, from the attractive stars to the sumptuous period setting.
Bel Ami is one of three films Pattinson has lined up for next year, along with The Twilight Saga: Breaking Dawn – Part 2 and David Cronenberg's Cosmpolis. We can probably guess exactly what to expect from Pattinson in the last Twilight, but perhaps Cosmopolis will offer a better chance for Pattinson to show off his chops, since I don't think Bel Ami's going to do it.Bel Ami opens March 2 in the U.K. No U.S. release date has been announced at this time.