P.J. Hogan To Direct 'Bone' For Warner Bros.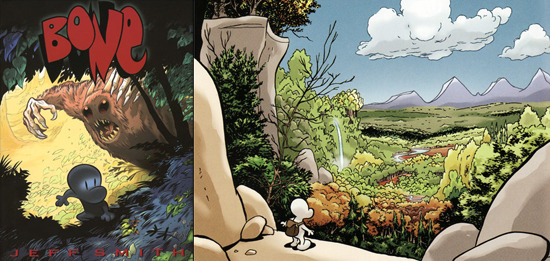 For many years a film has been in development based on the wonderful comic series Bone by Jeff Smith. The comic tells the story of three cousins lost in a strange land, where they're caught in the flare-up of an old conflict and realization of an ancient prophecy.
Bone was one of the best things to come out of the self-publishing wave of black and white comics in the early '90s. Initially championed by Dave Sim in the pages of Cerebus and very quickly embraced by both critics and audiences, the series ran 55 issues and stands as a landmark piece of comic storytelling. It has been republished in color and seems to find a new audience every few years.
The last time we heard about a possible film was when Jeff Smith revealed that he was "actually excited" about a four-minute CGI test clip. Warner Bros. is planning an animated three-film arc based on the comics, and a writer and director have finally been hired. Patrick Sean Smith, creator of the show Greek, is writing, and P.J. Hogan (Muriel's Wedding, My Best Friend's Wedding, Peter Pan) will direct.
THR reports that the two are now on board, but we don't know if Smith is going to rewrite the old script by Justin Monjo, or if he'll start fresh. Hogan will polish the result either way, and then the film will begin production in Australia.
Animal Logic, the animation house that did Happy Feet 2 and Legends of the Guardians: The Owls of Ga'Hoole, will animate. I know that some fans will really want to see an old-fashioned hand-drawn Bone film, because Jeff Smith's drawing is so reminiscent of classic Disney animation and Walt Kelly art. But that isn't going to happen. And really, Animal Logic is possibly the best company to bring Bone to life via CG.
I like the choice of Hogan to direct, too, as Bone is a strongly character-oriented story. There is a lot of action and adventure, sure, but the core of the story is the interaction between the Bone cousins, a young lady named Thorn and the village of Barrelhaven in which the Bones find themselves. Hogan will hopefully help nail that aspect.