'Goon' Green-Band Trailer And Clip – In Canada, They Even Beat The Crap Out Of Each Other Politely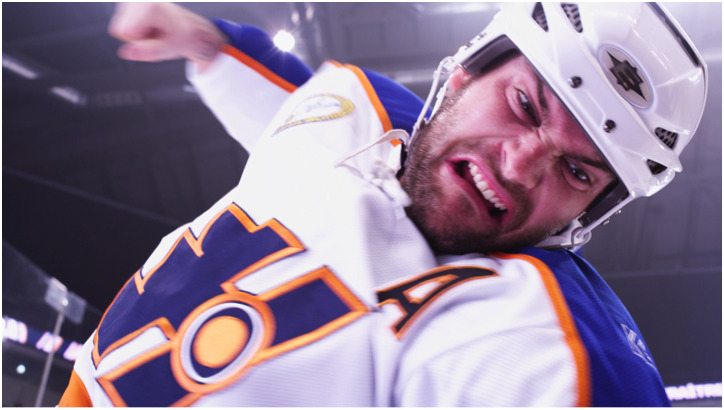 Twelve years after the release of American Pie, I still associate Seann William Scott most strongly with the role of obnoxious, douchey Stifler. But in Michael Dowse's hockey comedy Goon, Scott stars as Stifler's polar opposite: "Doug, the nicest guy you'll ever fight."
Scripted by Jay Baruchel and Evan Goldberg, the film follows a bouncer whose fighting skills land him a spot on a minor league hockey team, despite the fact that he can't even skate. Writer Baruchel does double duty as Doug's best pal, while Alison Pill stars as Doug's love interest and Liev Schreiber as Doug's nemesis. Watch the new green-band trailer and a clip from the film after the jump.
[via CinemaBlend]
The clip, meanwhile, offers a better look at a scene we glimpsed in the Canadian trailer, in which Doug appears on his pal's sports show and gets a fateful call.
[via HeyUGuys]
(Ugh, I know. Sorry about that sponsor message.)
Goon so far doesn't look like a must-see unless you're really into hockey, but there's an undercurrent of sweetness that should appeal to anyone looking for a pleasant way to while away a couple of hours — provided they don't mind a bit of raunch and violence, of course. The film hits OnDemand February 24 and theaters March 30 in the U.S.; it opens January 6 in the U.K.
Synopsis:
Doug Glatt, a slacker who discovers he has a talent for brawling is approached by a minor league hockey coach and invited to join the team as the "muscle." Despite the fact that Glatt can't skate his best friend, Pat, convinces him to give it a shot, and Glatt becomes a hero to the team and their fans, until the league's reigning goon becomes threatened by Glatt's success and decides to even the score.