Edgar Wright Has A New Script That's "Kind Of Like A Musical"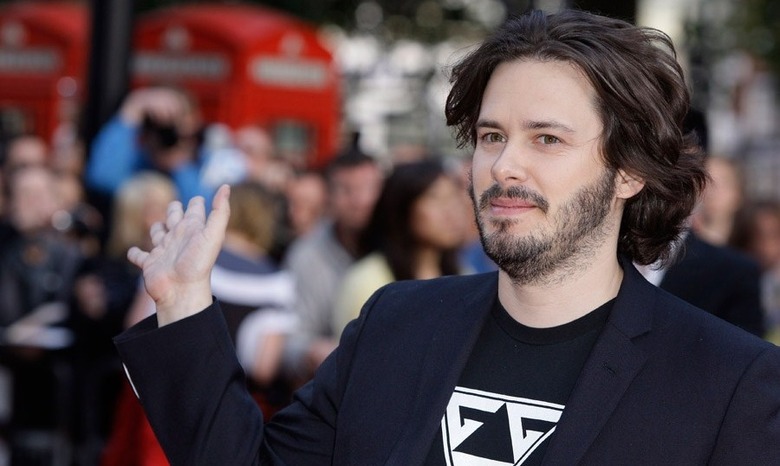 Edgar Wright's been keeping very busy over the past couple of years, what with exec producing Attack the Block and Sightseers, programming for the New Beverly Cinema, writing The Adventures of Tintin, and whatnot. But none of those quite qualify as a follow-up to Scott Pilgrim vs. The World, and we're still waiting to hear what his next big endeavor will be. The filmmaker has a few different prospects at this point, including the Ant-Man adaptation for Marvel, the Simon Pegg/Nick Frost project The World's End, and the mysterious actioner Baby Driver – and now we might be able to add "unnamed musical that may or may not be like The Umbrellas of Cherbourg" to the mix as well.
During a recent screening of Cherbourg for his The Wright Stuff program at The New Beverly, Wright revealed that he'd been working on a musical. It's not clear whether this is a totally new film he's talking about, or whether one of his previously announced projects involves singing and dancing. Either way, I am so totally in. More details after the jump.
"I've written a script which is kind of like a musical," Wright said at the event. "Slightly a departure for me in some ways, but when I've told people about the movie and the idea, most of them have said, 'You've got to see Umbrellas of Cherbourg.' So here we are."
It seems unlikely that Ant-Man would wind up being a musical, and we haven't heard anything about The World's End going in that direction either — though I suppose it's possible, since we still don't know much about that project in general. It seems most plausible, however, that the script in question is for either Baby Driver (about which almost nothing has been revealed) or a completely new movie.
Directed by Jacques Demy, the 1964 musical centers around a pair of young lovers, Geneviève (Catherine Deneuve) and Guy (Nino Castelnuovo). However, when Guy is drafted to fight in the Algerian War, leaving behind a pregnant Geneviève, she winds up marrying a rich man who agrees to raise the child. It's not exactly the kind of material I'd expect to see the guy behind Hot Fuzz and Shaun of the Dead to tackle, but of course, that's what makes the idea of Wright's kinda-musical so intriguing.