TV Bits: 'Bored To Death' Cancelled, 'Enlightened' Renewed; Plus: 'Shameless', 'Dexter', 'Homeland', 'Terra Nova', And More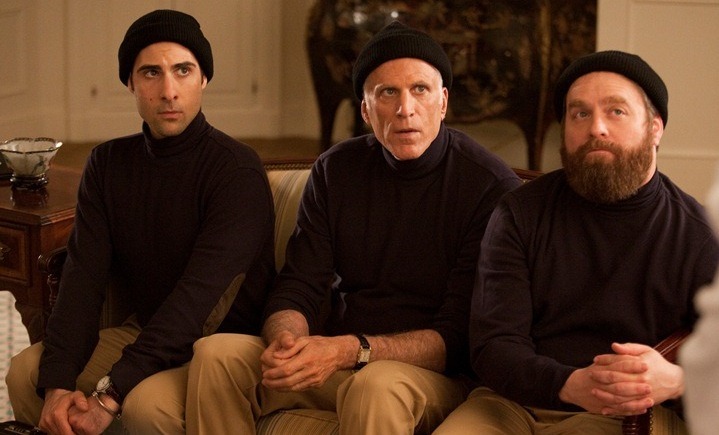 Plenty of offices around the country have already begun winding down for the holidays, but apparently Showtime and HBO had a few things to get out of the way first. Meanwhile, Fox is still holding out on a decision on Terra Nova til the new year — though the producers are apparently feeling optimistic. After the jump:
HBO renews Enlightened, axes Bored to Death, Hung, and How to Make It in America
Showtime drops a trailer for Shameless Season 2
Dexter showrunner Scott Buck talks about the finale's climactic moments
Homeland exec producers discuss the tense first season finale
Terra Nova producers are "guardedly optimistic" about the show's chances for a second season
The news is much happier for freshman series Enlightened, which has been renewed for a second season. Despite low ratings — Enlightened actually draws a smaller audience than any of the three recently killed shows did — the show's become a critical hit, earning Golden Globe noms for the series and star Laura Dern.
The housecleaning is an unusual move from HBO, which tends to be more forgiving than most networks when it comes to renewals. However, it comes as a result of its plans to limit original programming to Sundays only in 2012 with exceptions for one or two minor Friday shows. [Variety]
Moving along to brighter territory: Showtime has released a tragicomic new trailer for the second season of Shameless, which stars William H. Macy, Emmy Rossum, Jeremy Allen White, and more as the members of a dysfunctional family living in Chicago's South Side. We've seen a couple of teasers already, but I think this two-and-a-half-minute video may be the most revealing look yet at the upcoming season. Check it out:
The cast of Shameless also got together to release this irreverent Christmas carol — though Season 2 will actually take place in the summer.
Shameless returns January 8 on Showtime. [Just Jared]
As Shameless gears up, two other Showtime series closed out their respective seasons this past Sunday. Dexter capped off a mostly disappointing sixth season with a shocking scene in which [major spoilers for the Season 6 finale of Dexter follow] Deb (Jennifer Carpenter) approaches adopted brother Dexter (Michael C. Hall) to confess her more-than-sisterly love for him, only to catch him in the midst of killing Travis (Colin Hanks). Whether you loved it or hated it, it was definitely a watercooler buzz-worthy moment.
In a recent interview with Entertainment Weekly, showrunner Scott Buck offered his thoughts the climactic sequence — including that crazy sorta-incest storyline:
I find it kind of interesting that people are uneasy about Deb's love toward her brother. That on a show about serial killers, it's the idea of love that makes people more uncomfortable. We did some research on that among adopted siblings: It does exist and it does happen, and it does create a very awkward situation.
Buck has a point, but I suspect many more would agree with Vulture's reaction to his comments: "No no no, Scott. It's the idea of incest and totally selling out your characters that makes people uncomfortable." Head over to EW to read the rest. [End Dexter spoilers.]
Entertainment Weekly also sat down with Homeland exec producers Howard Gordon and Alex Gansa to talk about the finale of that series' freshman season, touching upon [major spoilers for the Season 1 finale of Homeland follow] Brody's (Damian Lewis) fate, Carrie's (Claire Danes) breakdown, and where Season 2 might go.
Though the finale concluded one major arc, Gordon and Gansa say the troubles are far from over for Brody and Carrie. "We'll continue to tell this story from the point of view of these characters who have been so richly realized," said Gordon. "For example, Brody is planning to play a much quieter and longer-term game — that's where that story is heading." But don't expect Season 2 to be a copy of Season 1: Gordon also reveals the next season will "not going to be about [Brody] planning another attack." Read the full interview on EW. [End Homeland spoilers.]
Finally, while we still can't say for certain whether Monday night's Terra Nova season finale will end up being the series finale, executive producers Rene Echevarria and Brannon Braga say they're "guardedly optimistic" about a renewal. Though observers have pointed to the show's considerable price tag as one reason for the network's hesitation in continuing the series, Braga asserts that "We're not looking to cut costs right now," emphasizing that Season 1 was "pretty much on budget."
And contrary to the rumors, the two say they have no plans to move production from Australia to Hawaii to cut costs. "If anything, that would be much more expensive," observes Echevarria.
Fox is expected to make a decision about the show's future early next year. In the meantime, check out the rest of Echevarria and Braga's comments on The Hollywood Reporter.