Bruce Campbell Will Be In Sam Raimi's 'Oz: The Great And Powerful' After All, And He's Already Shot His Cameo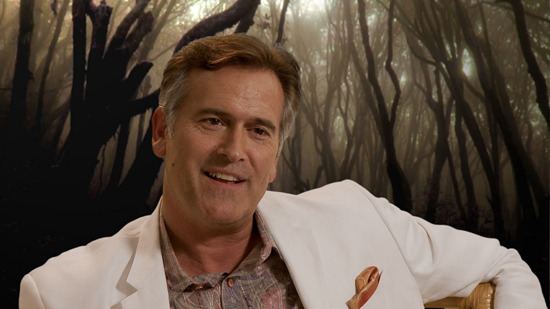 Bruce Campbell doesn't appear in all of Sam Raimi's films, but in the years since their work on the Evil Dead movies, the actor's become a familiar — if small — presence in many of them. So we were a bit disappointed last month to hear that Campbell wouldn't be making a cameo in Raimi's next picture, Oz: The Great and Powerful, despite earlier reports that he'd been slated to appear. But now it seems Campbell's back in after all, and what's more, that he's already shot his "pivotal" (not really) part. More details after the jump.
The scene that I shot was a page [of the script] and it took all day. It was great to see the scope of Oz and to see the detail, and the craftsmanship and the professionalism and the incredible stuff that they're doing visually in every other way.
As for what character he'll be playing, Campbell wasn't too forthcoming, saying only:
I play a pivotal role. It involves me and Oz – that's James Franco – and let's just say that we have a confrontation. It was a very fun role to do actually.
Campbell's almost certainly joking about the "pivotal" part, but regardless, it's nice to hear he's back in. Just one more thing to look forward to when the movie hits March 8, 2013.
Synopsis:
Oz The Great and Powerful imagines the origins of L. Frank Baum's beloved character, the Wizard of Oz. When Oscar Diggs (James Franco), a small-time circus magician with dubious ethics, is hurled away from dusty Kansas to the vibrant Land of Oz, he thinks he's hit the jackpot—fame and fortune are his for the taking—that is until he meets three witches, Theodora (Mila Kunis), Evanora (Rachel Weisz) and Glinda (Michelle Williams), who are not convinced he is the great wizard everyone's been expecting. Reluctantly drawn into the epic problems facing the Land of Oz and its inhabitants, Oscar must find out who is good and who is evil before it is too late. Putting his magical arts to use through illusion, ingenuity—and even a bit of wizardry—Oscar transforms himself not only into the great and powerful Wizard of Oz but into a better man as well.