Infographic: The 3D Bubble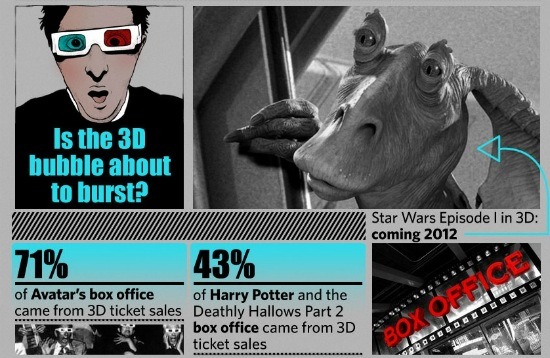 For several years, 3D has been one of the most popular topics of discussion among cinephiles young and old alike. Is shooting in 3D better than post-conversion? What kind of films benefit from 3D? Are 3D ticket prices scaring away audiences? Should box office records with 3D be counted against those without? Are 3D re-releases here to stay? What will happen when modern auteurs get their hands on 3D? The questions go on and on.
A new infographic has made its way online that answers a lot of these questions in a simple, easy to understand way. It even charts out the future 3D based on its past successes and failures. You see a small sample of it above but hit the jump to check out the full image.
Thanks to Sortable (via Geek Tyrant) for the heads up on The 3D Bubble, which you can click on to enlarge.

Obviously there is more than enough to discuss on this infographic and I'll leave the bulk of it up to any commenters below. The part I found most interesting, though, is the final piece: The line graph that shows the cyclical nature of 3D.  While that graphic certainly makes it seem like 3D is on the way out, what it doesn't take into consideration is technology. In each of those eras, not only has 3D technology itself improved, technology as a whole has gotten exponentially better. 3D technology in 2012 is much more prevalent, affordable and wide spread than it has been in past. 3D TVs and channels are becoming more common, there are 3D gaming systems, mobile phones, you name it. If 3D is going to go away as it has in the past, it has a much longer road to travel towards insignificance.
Do you think 3D will once again go away? What are the most enlightening parts of this infographic?