Sequel Bits: Bill Murray Out Of 'Ghostbusters 3' Again? Plus: 'Dragon Tattoo' Sequels Could Shoot Together, 'Star Trek 2' Villain Hints, 'Roger Rabbit 2' Stalled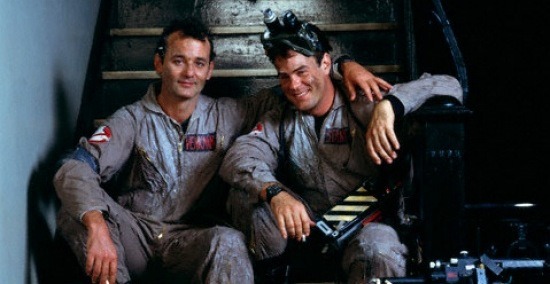 We're covering a few sequels in very different stages of the development process today — one that's gearing up to begin shooting soon, another that's yet to be greenlit, and two more that've been in the works for what feels like forever. After the jump:
Bill Murray literally shreds the latest Ghostbusters 3 script to pieces
David Fincher wants to shoot the two Dragon Tattoo sequels back-to-back
Gary Mitchell — or Harry Mudd or Trelane or the Talosians or the Horta — could be the baddie in Star Trek 2
Kathleen Kennedy says Roger Rabbit 2 is stalled for now
The paper writes that Aykroyd, Ramis, and Sigourney Weaver are all on board, but that Murray, who has script approval, has been ignoring produers' phone calls and dismissing the rewrites. After the paper-shredding incident, Aykroyd and Ramis have reportedly decided to move forward without Murray's involvement. Of course, we've all heard that line before... [via Comic Book Movie]
David Fincher's The Girl With the Dragon Tattoo hasn't quite hit theaters yet, but the filmmaker and his cast are already pondering the potential sequels. And if Fincher has his way, apparently, those could get into gear sooner rather than later. During a press conference for Dragon Tattoo, Fincher was asked whether he might shoot the next two films in the series back-to-back, considering that the two books they'd be based on essentially tell a single story. Here's Fincher's response:
Yes, the second two books are very much one story and it doesn't seem prudent to me to go to Sweden for a year. Come back for a year. Put out the second one. Go to Sweden for a year. Come back for a year. I don't think Rooney wants to be doing this four years from now. So I think that would be crazy especially given the sense that it's really one story that's kind of bifurcated in the middle.
Of course, whether the next two films happen at all is still very much dependent on the box-office performance of the first movie, which opens tomorrow. But we've got no reason to believe it won't do well, so prepare for another year or two of Rooney Mara in those dark, blunt Lisbeth Salander bangs. [Collider]
Now that we've heard Khan won't be in J.J. Abrams' Star Trek sequel, speculation has turned to exactly which villain Kirk, Spock, and company will face. According to an anonymous insider who spoke with Badass Digest, though the script is not yet set in stone, the story will definitely focus on a classic Trek character. Specifically, the source writes, "It's definitely a character that will make fans of TOS excited. Think along the lines of Harry Mudd or Trelane or Gary Mitchell or the Talosians or the Horta. Actually it's one of those that I named."
Badass Digest points to Gary Mitchell as the most likely candidate to appear in Star Trek 2, via process of elimination. While I'm not super familiar with classic Star Trek villains their description of him ("a character who presents a deeply personal struggle for Kirk while not being a traditional bad guy") does indeed sound like something that'd be right up Abrams' alley, not to mention a fantastic plot idea in general. Head over to their site to read more. [via Comic Book Movie]
Okay, I'd be lying if I said I even remembered there was a Who Framed Roger Rabbit sequel in the works — but it turns out that doesn't matter anyway because the project, according to producer Kathleen Kennedy, is currently stalled. In a recent interview, Kennedy said she and frequent collaborator Steven Spielberg were not planning to get involved with in Robert Zemeckis' long-gestating sequel in the near future. "We've attempted a script, but it's not really moving forward right now," said Kennedy. "That's not to say it won't in the future, but there's no spotlight on it now."
Also at a standstill, according to the same interview, are a Milli Vanilli biopic and the NeverEnding Story remake. Kennedy said the former could still happen "maybe someday," but expressed her regrets that the latter seems "not meant to be." "Nothing's ever been able to be resolved with the rights, unfortunately," she said of the NeverEnding Story reboot. "It's very, very complicated with Warner Bros." [The Playlist]