'The Devil In The White City' Gets New Screenwriter; Leonardo DiCaprio Still Attached To Play Serial Killer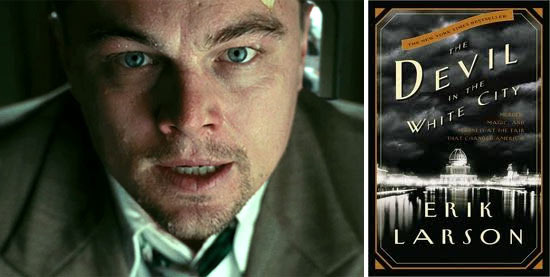 The last time we wrote about a possible film version of Erik Larson's book The Devil in the White City: Murder, Magic and Madness at the Fair That Changed America, Leonardo DiCaprio's company had just optioned the book and attached the actor to star. He hadn't yet shot J. Edgar, which has already come and gone, and he wasn't yet set for The Great Gatsby, which has wrapped principal photography.
Perhaps most crucially, he also hadn't been signed to play the bad guy in Quentin Tarantino's Django Unchained. DiCaprio hasn't played a villain yet, so seeing him attached to The Devil in the White City was a big deal, because he was, and still is, set to play a serial killer that haunts the creation of the 1893 World's Fair in Chicago. We haven't heard much about the film version of the story in the past year, but Warner Bros. is still working to make it a reality, and has just hired Graham Moore to script.
Moore, as Deadline points out, is the man behind a script called The Imitation Game, which just topped the 2011 Black List (a rundown of popular unproduced screenplays), and which Warner Bros. also recently bought to develop. Leonardo DiCaprio is attached to that one, too — if that goes forward he'd play legendary mathematician and codebreaker Alan Turing, widely considered to be the father of modern computing, and also a man who committed suicide after he was criminally prosecuted for homosexuality.
I'd much rather see the Alan Turing story, frankly, because while The Devil in the White City is lurid, fun and has the visual appeal of a recreation of turn of the century Chicago and the massive World's Fair, the story of Turing's life is far more unique as screen stories go. But The Devil in the White City is likely a far more salable story precisely because it is more familiar, with the exoticism inherent in a period piece.
It might help that Moore is a huge fan of the book, and has been for some time. He told Deadline,
[I've been] obsessed with Devil in the White City for a decade. My high school was 50 yard away from where the Chicago World's Fair was held, and I played soccer on a field near where Holmes murdered about 200 people. It was a truly horrible crime, but it's a very Chicago story. Though I moved to LA, I think of myself as fundamentally Mid-Western, and in a weird way, this is a dark and twisted tribute to my hometown.