New Battle Footage In 'John Carter' TV Spots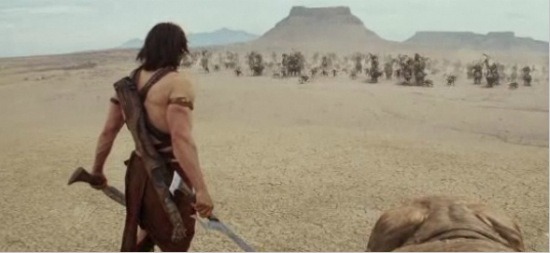 I think we can all agree that, whether or not you belive Andrew Stanton's 3D mega-budget fantasy John Carter is going to deliver, the second trailer was a vast improvement over the teaser. Finally we got a glimpse at the massive scope we can expect from the Oscar-winning director on March 9.
Piggybacking off that, and a few new posters, two new TV spots have come on line that include some new battle/actions scenes. And, dare I say, they improve on what we saw in the last trailer. Check them out below.
Thanks to Yahoo Movies for these TV spots which they, conveniently, put into one video. The first one is kind of mediocre but the second one is worth the wait.
While the latest trailer trumps both these commercials in their explanation of what the heck is going on in this world created by Edgar Rice Burroughs, these spots really highlight the adventure aspects of the series and will definitely raise some eyebrows.
My only question is if these spots might be running too early. The movie is still about three months away and very few people are thinking post-Oscars. At least during the Super Bowl people are used to seeing commercials for movies coming several months down the road. Now, sitting around the fire with your family, you're just trying to decide between Mission: Impossible, Tintin, Sherlock or Chipmunks.
Here's a brief John Carter plot description:
War-weary, former military captain John Carter is inexplicably transported to Mars where he becomes reluctantly embroiled in a conflict of epic proportions amongst the inhabitants of the planet, including Tars Tarkas and the captivating Princess Dejah Thoris. In a world on the brink of collapse, Carter rediscovers his humanity when he realizes that the survival of Barsoom and its people rests in his hands.
John Carter, starring Taylor Kitsch, Lynn Collins, Thomas Haden Church, Willem Dafoe, Mark Strong and James Purefoy will be released March 9.