Latest Netflix iOS Update Is Now Optimized For iPad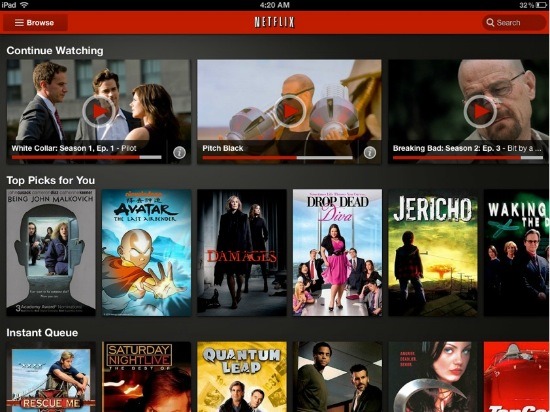 iPad users who have the Netflix app should head into the App Store immediately and download the latest update. It's being billed at Netflix 2.0 and has a vastly improved user interface as well as support for Latin America. Read more after the jump.
Netflix announced the new update on their blog, which was then picked up by sites like Engadget.
Here's the full announcement:
Starting today, Netflix members can enjoy a newly redesigned experience for the iPad that makes it much easier to discover and instantly watch TV shows and movies streaming from Netflix.
I'm Zal Bilimoria, and I'm a product manager at Netflix where I lead product innovation for mobile devices. The new app is really a big step forward; it is much more immersive and provides greater focus on our growing catalogue by displaying twice as many titles than the previous interface. In addition, through optimization for touch-enabled tablets, Netflix members can now swipe through rows and rows of titles featuring larger artwork.
Members can enjoy the new Netflix interface on their iPad with iOS 5 by upgrading to the latest version of the Netflix App, available as a free download from the App Store, which will be rolling out to all users in the coming weeks.
And there's more news. Starting today, Netflix members in Latin America can enjoy unlimited TV shows and movies streaming from Netflix on their Apple iPad, iPhone and iPod touch, or on their HD TV with Apple TV.
Also, Netflix "Just for Kids" is now available on Apple TV, providing a section that offers a broad selection of TV shows and movies for children 12 and under. You can read more about "Just for Kids" in Todd Yellin's original blog post when we first introduced the section in August.
Do you use Netflix on your iPad or do you use it on your TV/Gaming device more?