Did Patton Oswalt Get Kicked Out Of The Alamo Drafthouse For Texting?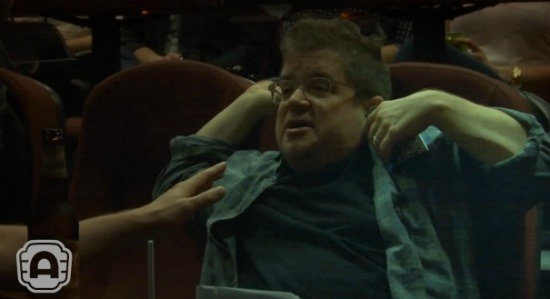 No one is immune to the Alamo Drafthouse's strict no texting policy, not even comedian Patton Oswalt. Recently, Oswalt was in Austin promoting his new film Young Adult when the notorious Tweeter was caught on his phone in a well-lit, sparsely populated theater. Director Jason Reitman then walked in to kick him out and...wait a minute, this is a joke!
After the jump, watch Reitman and Oswalt parody the Drafthouse's now infamous public service announcement which featured an actual voicemail left by an irate customer who actually had been kicked out of the theater for texting.
Here's a link to the original video, which is pretty much required viewing not only because it explains all the misspellings, but also because it's so flipping awesome.
And here's the new parody of it starring Young Adult director Jason Reitman and star Patton Oswalt.