'G.I. Joe: Retaliation' Teaser Trailer; You'll Believe Ninjas Can Fly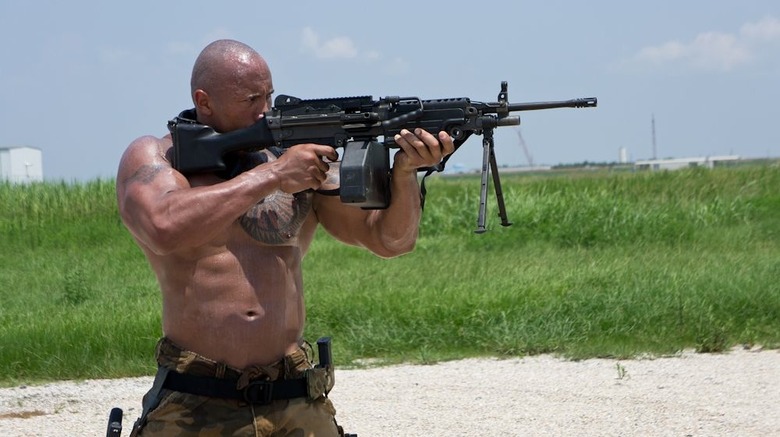 From the director of Step Up 3D and Justin Bieber: Never Say Never comes G.I. Joe Retaliation! And while that sounds like a joke, once you watch the first trailer for this sequel to the 2009's The Rise of Cobra, it makes perfect sense. Director Jon Chu, the man in question, has staged what looks to be an adrenaline-filled, action opera with stunts and scenes that are not only beautiful, but seem to explain why so few of the Joe's from the first film have returned.
Check out the teaser trailer after the jump.
Thanks to Machinima for the trailer. Here it is.
My headline above, obviously, refers to the action scene from the end of the trailer where Snake Eyes seems to repel down a mountain and take out a bunch of Cobra foot soldiers while hanging from a wire. I'd pay to see the movie if it was that sequence alone. But throw in the Cobra banners on the White House, The Rock, Bruce Willis' cameo at the end (though I think he has a bigger part in the movie) and you've got a potentially very fun summer action film.
G.I. Joe Retaliation will have its work cut out for it come June as it opens a week after another action-thriller, Abraham Lincoln Vampire Hunter, and a mere four days before The Amazing Spider-Man is released. But if the film provides the kind of action this trailer promises, with a solid story, it should do just fine.
Opening June 29, 2012, G.I. Joe: Retaliation stars Dwayne Johnson, Channing Tatum, Bruce Willis, Adrianne Palicki, D.J. Cotrona, Byung-hun Lee, Ray Park, RZA, Joseph Mazzello, Elodie Yung, and Walton Goggins. It's directed by Jon Chu.