Sequel Bits: Mark Neveldine Says 'Crank 3' Will Happen; Plus 'RockNRolla,' 'Planet Of The Apes' And 'Incredibles' Follow-Up Talk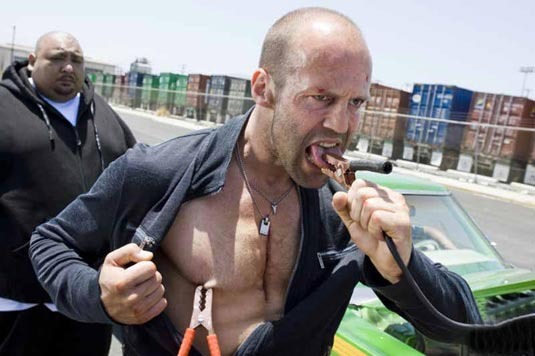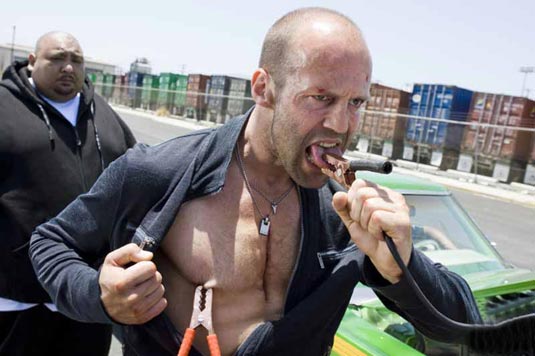 There's a lot of early talk about sequels going around this week, as the directors of current movies promote their new releases. After the break, we've got quotes on the following:
Mark Neveldine says Crank 3 will happen,
Rupert Wyatt talks about a Planet of the Apes sequel,
Brad Bird has a couple more comments about The Incredibles 2,
Guy Ritchie talks up a possible RocknRolla sequel,
And Robert Downey Jr. and producer Joel Silver address a possible Sherlock Holmes 3.
Let's do Crank 3 first, just since Neveldine and Taylor are on my mind after that new Ghost Rider trailer arrived. The energetic directors have made two successful low-budget action movies with the Crank title, and Mark Neveldine tells Empire that a third is in the offing:
There are so many different ways that Crank 3 could go. We've been talking about the top 50 ideas we what to do for Crank 3, so we're just trying to pair them down. By the way, Crank 3 is going to happen, the studios are really excited about it – it's just all about timing.
And, if you saw Crank 2, you might wonder how a third film will work. Neveldine says,
That alone, we have 20 ways to tackle it. You know, with Crank, basically, you insert another quarter and you play the game again. It's kind of like what thrills me and Brian, it's whatever we feel like doing there in the moment, whatever we wanna do, we just do and make it happen. The important thing is what powers Chev. It was adrenaline that kept him alive in the first one, it was electricity in the second one, you know, it's all about what will keep him alive in the third one. It's just fun slinging those ideas around.
He also mentions that he'd love to get Idris Elba in the film (he's in the duo's Ghost Rider sequel) and the Rock as well. But what action movie director wouldn't want the Rock at this point?
On the DVD commentary for Rise of the Planet of the Apes (via BleedingCool) director Rupert Wyatt, who is almost certainly going to direct the next film in the series, mentions that the ape Koba could have a further role in the Apes storyline,
He's a character who's going to go far in the mythology, I think. A really interesting counterpart to Caesar. He's the bad apple... I'm really excited about what's to come in terms of the the relationship between Koba and Caesar because they're two such different individuals and they're going to perhaps need each other. There's going to be some sort of uneasy truce in the future that I think is necessary, I guess, for the conflict that is going to come.
He also addresses a sequel in general:
We definitely needed to just lay the groundwork for how we're going to level the playing field for the next part of the story which is the real conflict between humans and apes on a far bigger scale. Where we start that story remains to be seen but my guess is it will be a generation after. In human years that's eight years for a chimpanzee or any ape, actually... we're setting up, perhaps, why humanity is going to be vulnerable enough for this ever growing army of intelligent apes and their offspring to be able to take us on.
Asked about a sequel to The Incredibles, Brad Bird reiterated most of the stuff he's said over the last few months. But when MTV asked if he has a script, or scenes, or notes, Bird said,
It's all of the above. I haven't gotten it all figured out yet. I have a lot of ideas I had originally intended to be in the first movie, but you have to start throwing things out of the balloon to get it up in the air. A lot of the things you throw out are really cool and would be good in a movie, so... some of the things that I would want to do were originally intended for Incredibles, and there wasn't the space to get them in there.
I'm sure there are plenty of existing films that people could list to represent a similar carrying forward of material that didn't fit in one movie. The one that comes to mind for me is Indiana Jones and the Temple of Doom, where the opening nightclub setpiece was originally conceived for Raiders of the Lost Ark.
Guy Ritchie's movie RocknRolla ended with a card that said, "Johnny, Archy and the Wild Bunch will be back in The Real RocknRolla." And that sequel might still happen, Ritche said. He told Movieline that his script for the sequel is done, and he's even got someone lined up to pay for it. But as long as WB keeps throwing him big movies like the Sherlock Holmes films and The Man From UNCLE, it might not happen soon.
You know, I've spent a lot of time thinking about it! I've written a script, I think it's a great script, and Joel [Silver] wants to pay for me to do it. But up until now we haven't had the time to do it. It's sitting there and we'd all like to do it, it's just a question of when we're going to fit it in. So we'll wait and see.
Speaking of Ritchie and Sherlock Holmes, Robert Downey, Jr., producer Lionel Wigram and Joel Silver were asked about a potential third film during the Italian premiere of A Game of Shadows. All told badtaste.it that they'd be happy to do a third film, but this one has to make money. Shocker!