Charlotte Gainsbourg May Go Three For Three With Lars Von Trier And 'The Nymphomaniac'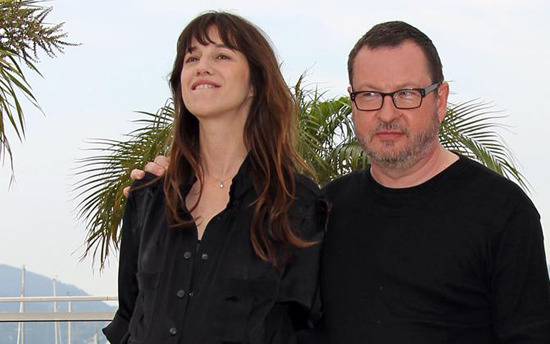 A great deal is often made of the supposed misogyny of Danish director Lars von Trier, but despite those accusations, the guy has a track record of attracting top-notch actresses. Sure, there's the fact that Bjork so hated the process of making Dancer in the Dark that she refused to ever work with Trier again, and in fact nearly swore off acting entirely. But on the other hand, you have someone like Charlotte Gainsbourg, who has done two films in a row with Trier (Antichrist and Melancholia) and is now looking at a third.
That latest film is The Nymphomaniac, and it is possible that the film, which has been promised as "an explicit exploration of female sexuality from ages 0 to 50," and will reportedly be released in hardcore and softcore versions. Read a bit more info after the break.
Variety says that Gainsbourg is in talks to star in the movie, and calls the script, written by Lars von Trier, "an explicit exploration of a woman's erotic life" that will be presented in eight chapters. The movie is likely to shoot in the summer or fall of 2012. I never expected to see an established actress taking the lead role in this film, given the explicit plans for the content,but Gainsbourg proved with Antichrist that she's willing to trust Lars von Trier on a journey far beyond the realms of what is considered explicit for a well-known actress.
We've also heard, straight from the actors, that Stellan Skarsgård and Willem Dafoe are possible participants, though nothing is set on that front yet. ("Lars called me and said 'Stellan, my next film will be a porno and I want you to play the lead in it,'" said Skarsgård. "But then he said, 'You will not get to f***.'")
Oh, and in case you were worried about Trier doing any jail time for his Cannes comments referencing Hitler and the Nazi ideology, you can rest easy. The prosecutor in charge of looking into whether the director's comments "justified war crimes" has dropped the charges against Trier and closed the case. "There was no intention on the part of Mr. Von Trier to commit the act of 'justifying war crimes'," the prosecutor told THR, adding "he expressed himself in a language that wasn't his own and also under very stressful circumstances."