'Men In Black 3' Trailer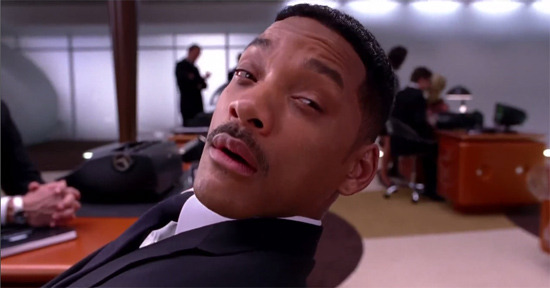 Here's the trailer for Men in Black 3, the troubled production that puts Will Smith and Tommy Lee Jones back in the severe suits of the alien-policing government agency. The film also features Josh Brolin as a young version of Jones' agent K, and as we see here, it's possible that Brolin's impersonation of Jones will at least be dead-on. As for the rest of the film, the trailer suggests that we'll see a very deliberate recreation of the formula that made the first film a big hit. Check it out below.
There's a lot we don't see here, but I'm a bit surprised that a movie this expensive looks (in places at least) so cheap. But I'll take a cheap aesthetic if the story and jokes work, and that's still the real concern, after the production took months off at the beginning of this year to figure out how the time travel aspect of the story could really click.
Alice Eve, Emma Thompson, Rip Torn, Johnny Knoxville, and Jemaine Clement are also featured in the movie. Men in Black 3 opens on May 25 2012.
In Men in Black 3, Agents J (Will Smith) and K (Tommy Lee Jones) are back... in time. J has seen some inexplicable things in his 15 years with the Men in Black, but nothing, not even aliens, perplexes him as much as his wry, reticent partner. But when K's life and the fate of the planet are put at stake, Agent J will have to travel back in time to put things right. J discovers that there are secrets to the universe that K never told him — secrets that will reveal themselves as he teams up with the young Agent K (Josh Brolin) to save his partner, the agency, and the future of humankind.