First Look: Footage From 'G.I. Joe: Retaliation'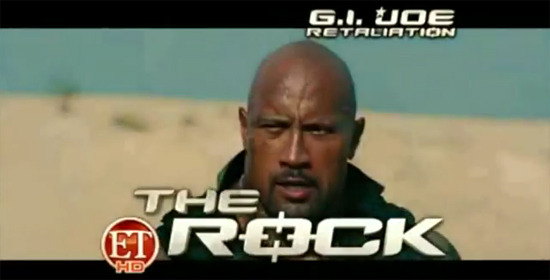 It's everyone's favorite thing: a first look at footage from a new movie thanks to the talking heads at Entertainment Tonight. This is a preview of a trailer, but for those who want to know what Step Up 3D director Jon M. Chu has done with his sequel to Paramount and Hasbro's action figure action movie, it'll have to do for now.
The full trailer for G.I. Joe: Retaliation will be available tomorrow, and we've got some early reactions thanks to the audience at Harry Knowles' Butt-numb-a-thon, the thirteenth instance of which ran this weekend. The trailer was previewed to that audience, and the reactions I saw on Twitter were uniformly positive. Our own Peter Sciretta said "Just saw the trailer for @jonmchu's GI Joe 2 — this movie looks like everything I could ever hope it to be... Seriously!"
We'll give you the full trailer as soon as possible, but for now enjoy this brief glimpse of some action, a sword, The Rock and Bruce Willis.
The film also features Adrianne Palicki, Channing Tatum, D.J. Cotrona, Byung-hun Lee, Ray Park, RZA, Joseph Mazzello, Elodie Yung, and Walton Goggins. It opens June 29, 2012.