Early Spoiler-Free Reaction: 'The Dark Knight Rises' Prologue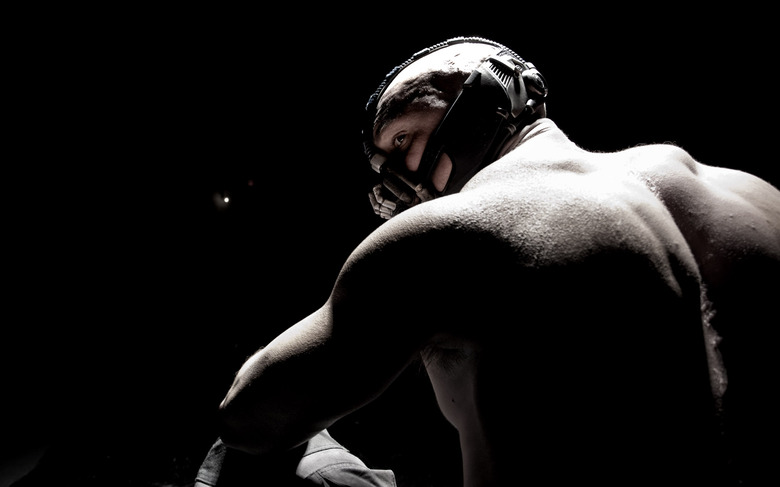 Tonight I was invited to the IMAX Theatre at Universal Citywalk to get an early look at Christopher Nolan's The Dark Knight Rises prologue, which will be attached to huge screen IMAX prints of Mission: Impossible – Ghost Protocol on December 16th 2011 (participating theaters list). I don't want to reveal any spoilers, so my report will be pretty spoiler free — purely a reaction.
You can watch a video blog I recorded with Frosty from Collider and Alex from FirstShowing embedded below or read my thoughts underneath that:
]
Like The Dark Knight prologue which screened before I Am Legend, this is the opening sequence from the movie — six minutes with an added minute-or-so teaser-style flash of imagery from the film. And just as The Dark Knight's prologue was not what you expected — a bank heist thriller, this also takes you to a place you never expected the story to begin. And this opening gives Tom Hardy's Bane a grand entrance — yes, just like the Joker got in the last film.
The tension-filled sequence is a spectacle on a grand scale, the grandest — in full screen 70mm IMAX. You will see a hiest like you've never seen it before — but what else do you expect from the director of Inception? There is a moments in this piece which feature Hardy in an unbelievable and breathtaking situation, which might be on par with Tom Cruise's 1-mile high spotlight moment in Dubai. But the star of the sequence is not Hardy, or Nolan, but the IMAX format. It is clear after seeing this sequence that The Dark Knight Rises is a must see in 70mm IMAX. I can't even imagine watching the film in digital or 35mm, missing out on much of the epic scope.
Most of the footage in the ending teaser reel are shots we've seen from the paparazzi shots, and nothing too shocking or notable. The big difference is that they were shot and projected in 70mm, and I can't stress how awesome they looked. It is worth noting that Nolan included a bunch of close-up shots, something that isn't typically shot with IMAX cameras as they are usually too loud for dialogue sequences. If anything, this is a hunt that more of the film will be presented in full IMAX than we might be expecting (more on this later).
As you can see, there will be much comparison to Joker's entrance in The Dark Knight prologue — that much is to be expected. And while the Rises prologue might not beat the one in The Dark Knight, that might just be a matter of Heath Ledger's gunshot explosive performance. One of the big complaints among attendees was that it was hard to understand what Bane was saying. As you know, the character wears a mask, and his voice is synthesized and muffled in a way which is sometimes hard to hear over the score. Oh, and what a score it is — Hans Zimmer may have outdone his own Joker theme. It starts off very simular, building tension, and takes a large bass-y Inception-style turn. I can't wait to hear more and see more. This was only 7-minutes! I can't wait to see the rest of the movie.
And we weren't the only ones who saw the footage tonight, I heard that Nolan invited a group of his filming peers to an earlier screening — a list which included Michael Bay, Bryan Singer, Jon Favreau, Edgar Wright, Eli Roth and others.
Eli Roth tweeted "I just saw the most incredible #DarkNightRises footage in IMAX. Mind blown."
Edgar Wright slyly teased on twitter: "Am I allowed to say I saw 6 minutes of 'Dark Knight Rises' on IMAX?" later adding "Worth noting. The most anticpated film of 2012 is shot on celluloid. So when it says 'A Film By Christopher Nolan', it really is film. P.S. It was amazing."
DC writer/chief creative officer Geoff Johns tweeted "Bane is AWESOME."
The 7-minute Dark Knight Rises prologue will be attached to select 70mm IMAX (not Digital IMAX) prints of Mission: Impossible – Ghost Protocol on December 16th 2011.