'What To Expect When You're Expecting' Trailer - Like 'New Year's Eve', Only With Pregnancy Instead Of A Holiday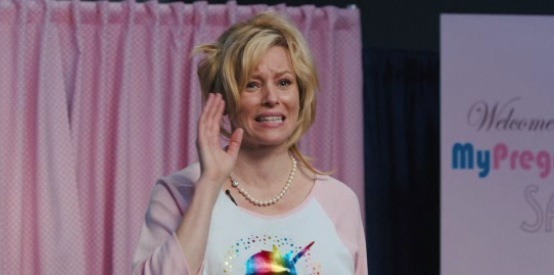 Because Hollywood couldn't fit all of its stars in Garry Marshall's New Year's Eve, it's also giving us What to Expect When You're Expecting, which stars pretty much everyone else. Such as: Anna Kendrick, Elizabeth Banks, Cameron Diaz, Jennifer Lopez, Brooklyn Decker, Chace Crawford, Dennis Quaid, Rodrigo Santoro, Joe Manganiello, Wendi McLendon-Covey, Matthew Morrison, Chris Rock, Thomas Lennon, Ben Falcone, Megan Mullally, Rob Huebel, and Rebel Wilson.
Based, somehow, on the extremely popular pregnancy manual first published in the '80s, the ensemble comedy follows several interlinking storylines all centered around the miracle of childbirth. Watch the first trailer after the jump.
[via Movieline]
New Year's Eve may have the higher-profile cast, but What to Expect When You're Expecting's is funnier — it's got three Bridesmaids actors, even! — and accordingly, the trailer for the latter looks more entertaining. Which isn't saying much, but still. The jokes don't seem to especially fresh, but if anyone could sell them it'd be this crowd. I think I may have even smirked a couple of times, before the trailer totally lost me with that slow-mo shot of the local dads with the Notorious B.I.G.'s "Big Poppa" playing in the background.
Among the couple-centric storylines that'll be featured in What to Expect When You're Expecting are Kendrick and Crawford as a pair of food truck rivals who fall for each other, Morrison and Diaz as a celebrity dance show pair who hook up, Lopez as a woman who wants to adopt even though her boyfriend (Santoro) isn't sure about fatherhood, Decker and Quaid as a May-December romance, and Falcone and Banks as Quaid's son and daughter-in-law.
Directed by Kirk Jones (Waking Ned Devine) and written by Shauna Cross (Whip It), What to Expect When You're Expecting opens May 11, 2012 — just in time for Mother's Day, naturally.