New 'American Reunion' Poster Calls Back To Old 'American Pie' Poster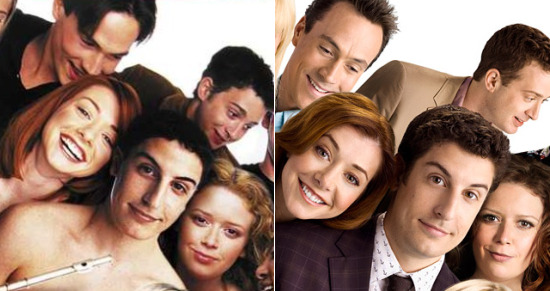 Since so much of the appeal of American Reunion lies in whatever lingering affection you have for 1999's American Pie, it's only natural that the marketing folks would try at every turn to remind you of how much you loved the first movie. That tactic is especially evident in the film's just-released poster, which recreates the one from the original.
Sure, Jim (Jason Biggs) has clothes on, Michelle (Alyson Hannigan) is holding a baby bottle instead of a flute, Oz (Chris Klein) has way less hair, and the gang is apparently eating pies now instead of fucking them — but the overall picture looks very familiar. Check it out after the jump.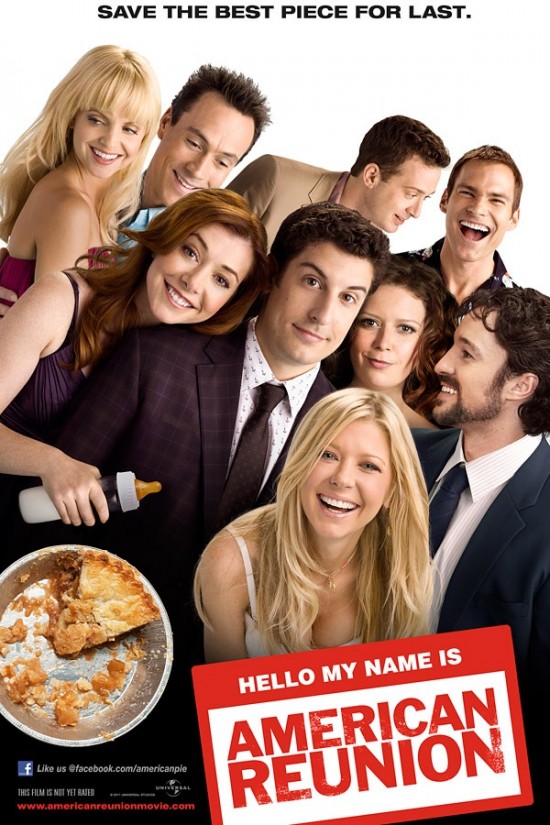 And for comparison, the American Pie one: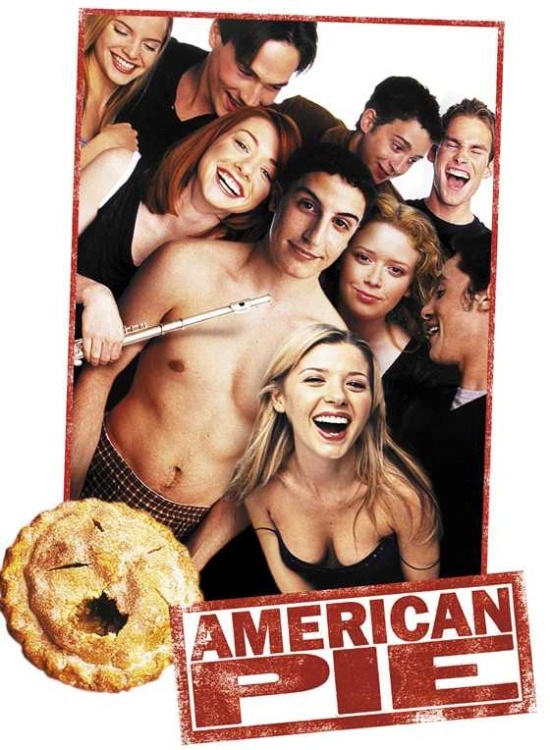 [both posters via Movies.com]
I'm really hoping that the substitution of a baby bottle for the flute doesn't imply that Michelle will be doing to the former in this installment what she once did to the latter in the first installment. Because ewwww.
Also, how has Photoshop not gotten any better in the last decade? If anything, the new poster looks even more doctored than the old one did.
In addition to all the returning cast members — which include Biggs, Hannigan, Klein, Mena Suvari, Eddie Kaye Thomas, Seann William Scott, Natasha Lyonne, Thomas Ian Nicholas, and Tara Reid, as pictured, plus Eugene Levy, Shannon Elizabeth, and Jennifer Coolidge — American Reunion will also feature franchise newcomers Chuck Hittinger, Jay Harrington, Ali Cobrin, Dania Ramirez, and Katrina Bowden. Directed by Jon Hurwitz and Hayden Schlossberg, the film hits April 6, 2012.
Synopsis:
In the comedy American Reunion, all the American Pie characters we met a little more than a decade ago are returning to East Great Falls for their high-school reunion. In one long-overdue weekend, they will discover what has changed, who hasn't and that time and distance can't break the bonds of friendship. It was summer 1999 when four small-town Michigan boys began a quest to lose their virginity. In the years that have passed, Jim and Michelle married while Kevin and Vicky said goodbye. Oz and Heather grew apart, but Finch still longs for Stifler's mom. Now these lifelong friends have come home as adults to reminisce about—and get inspired by—the hormonal teens who launched a comedy legend.