Harrison Ford Up For Jackie Robinson Film '42'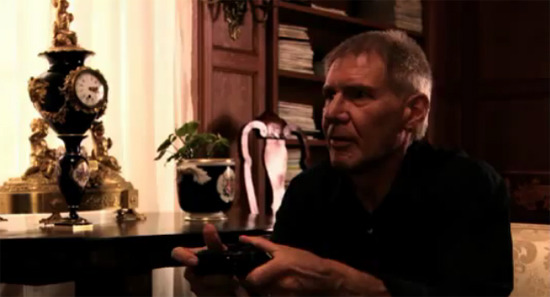 Robert Redford? Nope. Jack Nicholson? Nope. Now Harrison Ford is Legendary Pictures' target to play the leading role of Branch Rickey, the Los Angeles Dodgers executive credited with signing Jackie Robinson and breaking baseball's color barrier, in the film 42, written and directed by Brian Helgeland. Ford has yet to sign but, according to reports, the role is his if he wants it. Read more after the jump.Deadline reported the news and said that Legendary is "courting" Ford, which sounds oddly close to what Summit is reportedly doing for Ender's Game.
This biopic has a well-documented back story over the past year. Robert Redford was developing a Jackie Robinson film with Brian Helgeland that would center on Rickey. Redford's name then came off the project when Legendary Pictures picked it up and, at that time, the project's focus seemed to shift from Rickey to Robinson himself, hence the title change to 42. That's also when Nicholson was offered the role but, with this news breaking on Ford, it seems obvious Jack has passed.
Rickey and Robinson's story is one of the most important and storied in baseball history. Rickey was the Dodgers GM who decided that signing Jackie Robinson as the first African-American baseball player was the right move and, on April 15, 1947, he walked on the field for the first time. The move payed off in numerous ways, both for the Dodgers and Robinson – he won the Rookie of the Year award, the National League MVP, a World Series championship and was inducted into the Hall of Fame in 1962 – and it opened the door for legions of non-white baseball players to join the Majors, changing the game forever.
If Nicholson and Redford decided they didn't need to do this film, odds are that Ford will probably pass as well. He seems to be at a point in his career where work is secondary to family and life in general. I can only hope this movie does get off the ground, though. It needs to be made.