'The Iron Lady' Trailer – Did You Know Meryl Hasn't Won An Oscar Since Margaret Thatcher Was Prime Minister?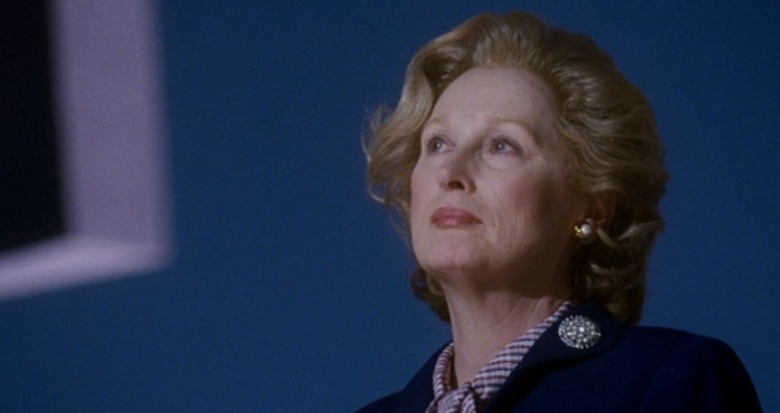 Phyllida Lloyd's Margaret Thatcher biopic The Iron Lady won't open for a few weeks yet, but with all the buzz Meryl Streep has been getting for her lead turn, it's no wonder the latest trailer has decided to focus on the woman at its center. The first teaser we saw offered just a brief snippet of Streep-as-Thatcher practicing her public persona, while the UK trailer kept things relatively light with a poppy soundtrack. The new one, however, is a dead-serious look at Thatcher's personal journey — and through it, Streep's amazing performance as the former Prime Minister. Watch it after the jump.
[via Moviefone]
Over the course of two minutes and twenty seconds, we get Streep playing Thatcher at her highest and at her lowest, at her steeliest and at her most vulnerable. There's definitely an inspirational streak running through the trailer, but there's just enough nuance to keep it from going overboard.
It seems all but certain that Streep will get an Oscar nomination for The Iron Lady, and maybe even the actual trophy. Though Streep's been nominated some sixteen times over her career, she's actually only won twice — the last time being in 1983 for Sophie's Choice. I'd say Streep is overdue for another win, wouldn't you?
The Iron Lady gets a limited opening December 30, 2011, with a wider release planned for January 6, 2012 in the UK and January 13, 2012 in the US.
Synopsis:
THE IRON LADY is a surprising and intimate portrait of Margaret Thatcher, the first and only female Prime Minister of the United Kingdom. One of the 20th century's most famous and influential women, she came from nowhere to smash through barriers of gender and class to be heard in a male dominated world.
This is a film about power and the price that is paid for power, a story that is both unique and universal.