Casting Bits: Armie Hammer And Eric Bana In 'By Virtue Fall', Juno Temple And Wes Bentley In 'Lovelace', Richard Jenkins In 'A.C.O.D'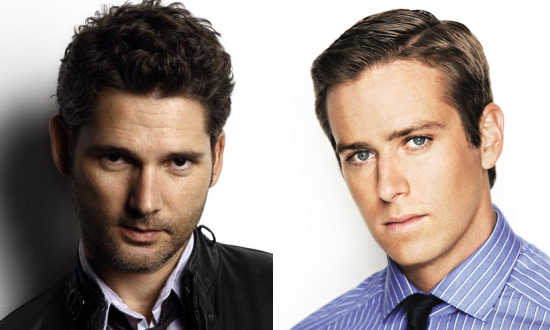 Armie Hammer has been working his clean-cut golden boy looks to his advantage in The Social Network, J. Edgar, and the upcoming Mirror, Mirror, but the latest addition to his slate will see him transforming into a bit more of a "badass." Hammer will bulk up and shave his head to star with Eric Bana in By Virtue Fall, a "gritty drama" about an ATF agent (Hammer) who gets framed for corruption and serves time into a maximum security prison. Once out, he's determined to get revenge on his former partner (Bana), whom he blames for destroying his life.
The project marks the directing debut of Up in the Air co-writer Sheldon Turner, who also penned this script. By Virtue Fall is scheduled to start sometime in 2012, after Hammer wraps up Disney's The Lone Ranger over the summer. [Deadline]
After the jump, Richard Jenkins becomes Adam Scott's dad, while Juno Temple and Wes Bentley befriend Amanda Seyfried.
The project marks a reunion for Scott and Jenkins, who previously worked together in 2008's Step Brothers. A.C.O.D. is scheduled to begin shooting in March. [Deadline]
Juno Temple and Wes Bentley are set to join Amanda Seyfried, Peter Sarsgaard, and Sharon Stone in Lovelace, Rob Epstein and Jeffrey Friedman's biopic of adult film star Linda Lovelace. Just to be clear, this is a totally separate project from Matthew Wilder's Inferno, which stars Malin Akerman as the troubled porn actress — Linda Lovelace is the new Snow White, it seems. The Lovelace script, by W. Merritt Johnson and Andy Bellin, is based on The Complete Linda Lovelace by Eric Danville.
Temple is lined up to play the best friend of Linda (Seyfried), while Bentley will play Linda's second husband Larry Marchiano. As previously reported, Sarsgaard will star as Chuck Traynor, Linda's abusive first husband and the man who pulled Linda into porn, and Stone as Linda's mother. Production will begin in Los Angeles at the end of this month. [Variety]