An Almost Real Life 'Jurassic Park' Coming To New Jersey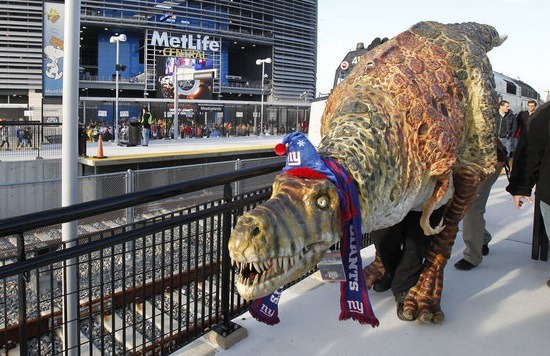 Watching the Giants Packers football game on Sunday, Fox cut to a very awkward shot of what appeared to be a dinosaur walking off a train. The announcer explained the dinosaur was on the train to A) Encourage football fans to take the train to the stadium and B) Promote a new dinosaur park opening nearby. I immediately thought two things. First, how is a dinosaur going to help people ride the train and second, it sounds like Jurassic Park. That first statement will forever remain a mystery but the second one is coming to fruition.
A 24-acre park called Field Station: Dinosaurs is set to open May 2012 in Secaucus, New Jersey that will feature over 30 life-size, animatronic dinosaurs walking around the park. Read more after the jump.
The park, which is still under construction, will open in May and remain open through Thanksgiving. It is New Jersey after all and keeping an outdoor park running during the Winter is probably not smart. In addition to the animatronic dinosaurs there will be a petting zoo and programs teaching kids about dinosaurs and the environment.
Field Station: Dinosaurs calls to mind the Walking With Dinosaurs show has been traveling to stadiums across the world, and which has inspired the development of a feature film. Both are entertainment-based, educational experiences with realistic dinosaurs. That show has been massively successful, selling out arenas like Madison Square Garden. The New Jersey company that's backing Field Station can probably expect to have similar success.
So while we'll never actually see a real life Jurassic Park, it seems like this park is a pretty decent substitute.
Here's a video with a few more details. Thanks to Movies.com and NJ.com for the information.