Texting To Be Allowed In New Washington State Theater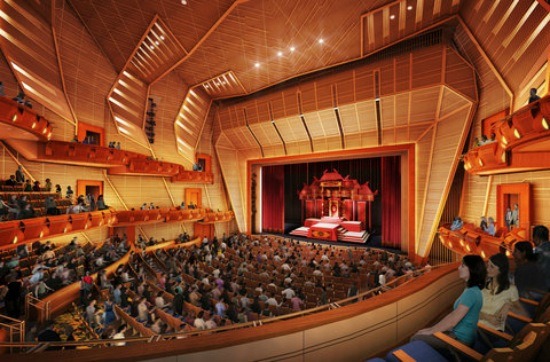 It's not a movie theater and it hasn't even been built yet, but an in-the-works performance hall just outside Seattle, Washington plans to encourage its patrons to use their phones in the theater. The Tateuchi Center in Bellevue, Washington, set to open in 2014, is being built with its own cell antennae inside so that patrons – who will ideally be younger – can text, tweet and Facebook during performances.
Yeah, there's obviously much more to say on this topic.
The news broke in The New York Times (via Cinemablend), which has two-fold meaning. One, it means it's certainly legitimate. And two it means the publicity team behind the theater is doing a hell of a job. What a genius marketing idea.
The theater itself hasn't even broken ground, is still two-thirds of the way to their goal of $162 million to open but it's already making headlines. Below those headlines are the theater's two saving graces. First, this theater will not cater to arts that encourage silence.  The Tateuchi will be 2000 seat venue used primarily for musical performances. For loud events like that, it almost makes sense to encourage texting because it doesn't really hurt people's enjoyment of the show. Second, the theater is aware of its controversial decision. It'll give performers the choice whether or not to allow this type of behavior during each individual show. No talking on the phones will be allowed and small screens might be distributed to make the devices less bright.
Despite that, any cell phone tolerance at all creates a slippery slope when Tateuchi patrons walk into another theater, like a playhouse or movie theater, and whip out their phones because they're used to doing it. That's where I think the issue lies.
The theater's director, John Haynes, said the following.
This is the wave of the future for the people we worry about attracting. Simply forbidding it and embarrassing people is not the way to go. So we are wiring the building in anticipation of finding ways to make it work over time....I don't think this is something that changes overnight. We didn't want to build the last great concert hall of the 20th century, but maybe the first one of the 21st century.
I can almost see the argument that this is the "wave of the future" and if they want to attract a younger demographic, it's a unique selling point. There is probably going to, eventually, be some kind of middle ground here and I'd applaud the theater for being progressive if I thought people could be trusted to follow the rules. The fact is, though, kids will use their phones no matter what and, to me, texting during a performance of any kind is a disgusting form of disrespect.
Do you think this is a wave of the future? Is there a middle ground?