'Orphan' Writer Adapting Futuristic Graphic Novel 'Last Man Standing'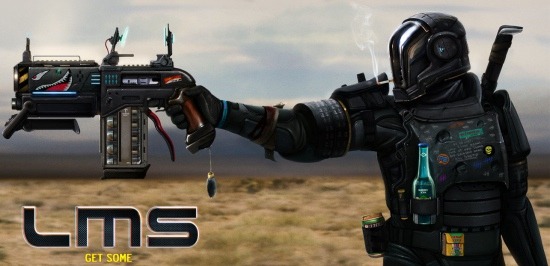 Remember that awesome looking graphic novel called Last Man Standing we published all that artwork for in 2010? The one Paramount picked up to be made into a film before the book even hit the shelves? If not, click here for a refresher course or just bask in the coolness of that header image. It took a while but Paramount has finally found their man to pen a screenplay based on the Daniel LuVisi graphic novel and it's David Leslie Johnson, the writer of Orphan, Red Riding Hood, Wrath of the Titans and The Walking Dead.
Last Man Standing, which was published under Teenage Mutant Ninja Turtle creator Kevin Eastman's Heavy Metal banner, is about a famous, genetically enhanced solider who is framed and endures nine years of hellacious incarceration before getting out and vowing revenge. It's also futuristic, violent science-fiction if the massive gun above didn't clue you off. Read more after the jump.
Variety broke the news of Leslie Johnson's hiring. Here's how the book, which shouldn't be confused with the Tim Allen TV Show or Bruce Willis movie, was originally described:
LMS (Last Man Standing) tells the story of Gabriel, the last living Paladin soldier. Genetically engineered, he is a warrior of supernatural strength, anointed as the guardian of Amerika and its people. Admired and celebrated by most, Gabe's world takes a sudden turn when he finds himself framed by the terrorist group Pandemonium, for a series of atrocious crimes he had no part in. For these alleged crimes, Gabriel is sent to the treacherous Level-9 Prison Facility and incarcerated with the very scum he helped put away. After nine years of torture and agony, the once famed hero kills his captors and escapes the 9 levels of hell he has been condemned to. From here on forward, Gabriel embarks on a journey into the heart of darkness; the New Amerika, a world filled with colorful and deadly characters that will either help or try to eliminate him ? neither of which attitude is always transparent. As the once invincible hero digs deep to unravel the true reason behind his framing, he also discovers a problem he never had to face before: He's dying; and quickly.
The original book, which seems like it's damn near impossible to find and goes for $650 used on Amazon, was planned as a Bible for LuVisi's world in the hopes that the story would be expanded into different mediums. That's now happening, both with the movie, and hopefully as a Heavy Metal comic.
Do you have Last Man Standing? Have you seen it? Will Leslie Johnson's take live up to the hype?