Universal Studios Orlando Will Close 'Jaws' Ride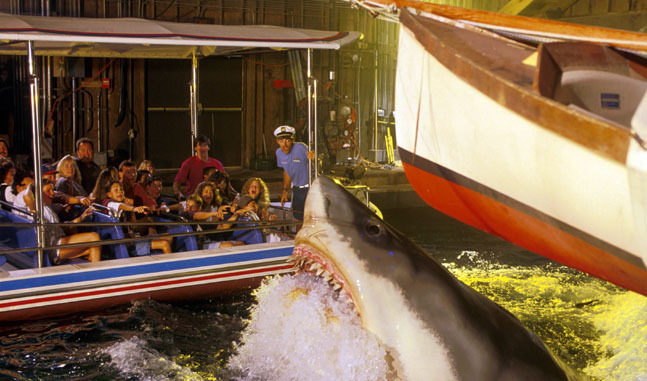 Starting in 2012, your boat can, unfortunately, remain the same size. Universal Studios Orlando has just announced that on January 2, they will officially close one of their oldest attractions, Jaws. Over the past few years, Universal Studios Orlando has been eclipsed by its sister parks, Islands of Adventure and The Wizarding World of Harry Potter and the owners are doing their best to reinvigorate their original location. Since Jaws has been part of the park since it opened in 1990, and is based on a movie that's almost 40 years old, it's being closed to "make room for an exciting, NEW, experience." So if you plan on getting married when Jaws pops out of the water, you have one month to make that happen. Read more after the jump.
The Baltimore Sun was among the first to report this news which was also confirmed by the Universal Facebook page:
Hey fans, we want you to be the first to know... JAWS! and the Amity area will officially close on January 2 to make room for an exciting, NEW, experience we're planning for you. We know you love JAWS! and we do too. It has been an amazing attraction and after terrorizing the waters of Amity here at Universal Orlando for 20 years, it's a VERY important part of our history. So, we've got a couple things planned to ensure we always remember and honor it. We know it's hard to say goodbye, but we can't express how EXCITED we are about the new, innovative & amazing experience we're going to be bringing you.
While Islands of Adventure is flush with Marvel characters and the Wizarding World of Harry Potter is brand new, Universal itself is filled with rides and areas from movies of old: Jaws, E.T., Men in Black, Twister, Beetlejuice, The Blues Brothers and An American Tail are a few examples. It's probably hard for rides designed in the nineties, about movies that came out before that in some cases, to entertain today's kids. To that aim they're going to be opening a Despicable Me ride soon and rumor has it they might be creating a Hogwarts Express tram that links all the parks.
Just yesterday I let my feelings be known about Universal Studios Hollywood but I've never been to the Orlando location. Do you think this is good for the park? Is it worth the price of admission? Is it sad that Jaws will be leaving?