'Twilight Zone' And 'Where's Waldo?' Get New Screenwriters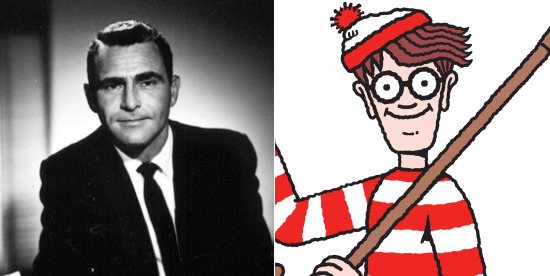 Two projects based on world-famous properties you probably loved growing up are inching just a little bit closer to the big screen. MGM has tapped Todd Berger to adapt Martin Handford's children's book series Where's Waldo? into a feature, while over at Warner Bros., Invictus and Sherlock Holmes writer Anthony Peckham has entered talks to do a rewrite of Matt Reeves' The Twilight Zone. More details after the jump.
Very few details have been revealed about MGM's plans for Waldo, though given the premise of his books we can assume it'll involve travel of some sort. Paramount's version would've seen Waldo journeying through both space and time after accidentally setting off a time machine.
Berger's previous writing experience consists mostly of short films, though he has garnered some good buzz for his Black List script The Happytime Murders, a puppet crime mystery currently being developed with Cameron Diaz attached to star. He recently wrote and directed the comedy It's a Disaster, which is now in post-production.
Meanwhile, Warner Bros. is negotiating with Peckham to write a new draft of Jason Rothenberg's script for The Twilight Zone, an adaptation of the Rod Serling TV series being directed by Let Me In helmer Reeves and produced by Leonardo DiCaprio's Appian Way. Although the 1983 feature based on the series featured four different storylines, the new one will focus on just one standalone plotline with "elements" from the Twilight Zone universe, such as "that familiarly eerie feel."
Peckham's worked with the studio several times before, penning the screenplays for Sherlock Holmes and Invictus and doing a rewrite on The Book of Eli. He's also scripting WB's Yucatan, as a star vehicle for Robert Downey, Jr.
[Source: The Hollywood Reporter, Variety]