Indonesian Trailer For 'The Raid' Is Two Minutes Of Pure Adrenaline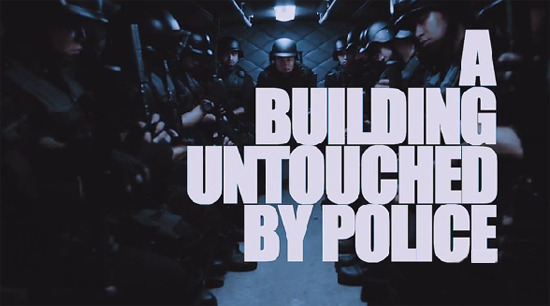 One of the biggest films to get buzz at this year's Toronto Film Festival was The Raid, an Indonesian action film by Gareth Evans that features a SWAT team trapped in and trying to escape from an apartment block run by a drug lord. The attraction of the film is a non-stop barrage of action with loads of stunt work, gunplay and martial arts.
Peter called The Raid "the best action film I've seen in years," and a remake has already been announced from Screen Gems. Don't worry, though, as Sony Pictures classics will release the original version that wowed Pete and other festival audiences in Spring 2012.
To help make the wait a little more difficult to bear, here's a new trailer out of Indonesia. There are more people getting punched, shot, and thrown against and through walls in this two-minute trailer than you'll find in most action features.
This is a lot like the red-band teaser that was released right after the film kicked audience asses at TIFF, but it has a bunch of new footage, too. I guess there are enough people getting violently shot, stabbed, beaten and thrown that this also counts as a red-band trailer.
So, yeah, if you think watching a guy get shot several times in the face is going to be a problem while sitting at your desk at work, best wait for this one. Don't wait too long, though, because this looks crazy.
Official Plot Synopsis:
Deep in the heart of Jakarta's slums lies an impenetrable safe house for the world's most dangerous killers and gangsters. Until now, the run-down apartment block has been considered untouchable to even the bravest of police. Cloaked under the cover of pre-dawn darkness and silence, an elite swat team is tasked with raiding the safe house in order to take down the notorious drug lord that runs it. But when a chance encounter with a spotter blows their cover and news of their assault reaches the drug lord, the building's lights are cut and all the exits blocked. Stranded on the sixth floor with no way out, the unit must fight their way through the city's worst to survive their mission. Starring Indonesian martial arts sensation Iko Uwais.
[Twitch]