Toronto Midnight Madness Winner 'The Raid' Hits Theaters This Spring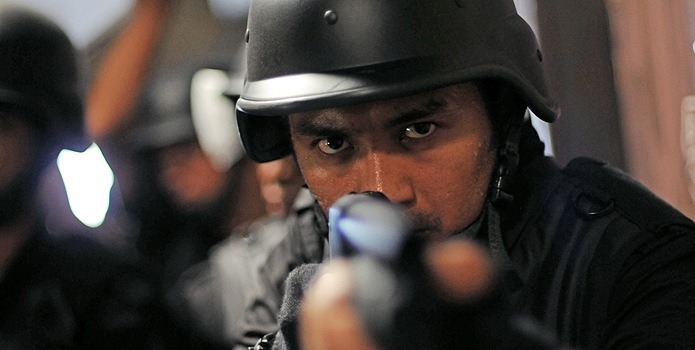 Coming out of this year's Toronto Film Festival, several films enjoyed massive buzz. You're Next was one, God Bless America was another, Sleepless Night a third. But the one most with most heat was The Raid. Peter called this Indonesian action film about a SWAT team who attempts to infiltrate an apartment building controlled by a drug dealer "the best action film I've seen in years" and Sony Pictures Worldwide Acquisitions quickly gobbled up the rights. (Actually, the rights were bought at Cannes before the film was done.) With those rights, Screen Gems has been developing an America remake with no mention of when we might get to see the original.
Thanks to Sony Pictures Classics, we'll now get a chance to see it this Spring. Read more after the jump.
The Raid won the prestigious, and competitive, Best Midnight Madness Award at Toronto and though it was programmed at Fantastic Fest, Sony decided they didn't want the film to play anymore film festivals until it was given a new soundtrack. That music, being composed by Mike Shionda of Linkin Park and Joseph Trapanese, should be done in time for Sundance, building just enough mainstream press to gear up for a Spring release. No word on when exactly that might be, but I'd guess late March, early April.
When Peter saw The Raid in Toronto, it pretty much blew him away. Here's a sample from his write up:
The film reminds me of when I first discovered the old-school films of John Woo like Hard Boiled. I've heard others making comparisons to Die Hard and Assault on Precinct 13. The first 15 minutes take place before the Raid and the 85 minutes that follow are almost non-stop action. Imagine a film which takes place in the space which is usually left for the climactic action sequence at the end of a movie.
And just to get you excited, here's the red band trailer for Gareth Evans' The Raid.
Source: Deadline