Kristen Wiig Takes Lead Role In Ben Stiller's 'The Secret Life Of Walter Mitty'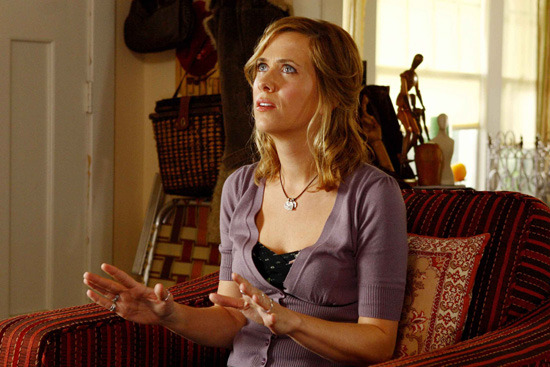 While half the talk that involves Kristen Wiig of late seems to revolve around whether or not she wants to do a sequel to Bridesmaids (she doesn't) the actress is moving on to other stuff.
She has already shot Imogene and another indie called Revenge of the Jolly!, and now she's looking at a role in Ben Stiller's remake of the classic comic fantasy The Secret Life of Walter Mitty.
THR breaks the news that Wiig is in talks to play the lead female role opposite Stiller in the movie. She'll be the co-worker about whom Mitty, a henpecked photo manager at a magazine, fantasizes as he dreams his way out of a humdrum life. We'll see how they are brought together when Mitty "finds himself in an adventure of his own when he goes in search of a missing negative."
The film also features Shirley MacLaine as Mitty's mother, and we'll likely hear about quite a few other cast choices in the next couple weeks, as the film plans to shoot in April.
The Secret Life of Walter Mitty was written by Steve Conrad (The Pursuit of Happyness, The Weatherman). His script is only the latest in a long series that attempts to redo and update the story first written by James Thurber in 1939 and turned into a film starring Danny Kaye in 1947.
And what does the plan for Walter Mitty do to Wiig's other recent film commitment, which was to Sean Penn's The Comedian? We'd heard that she would be the love interest of a washed up comedian, to be played by Robert De Niro. That one is planning to shoot in June. So theoretically Wiig could jump right from Mitty to The Comedian, but at this point her status in the Sean Penn movie seems just a bit more uncertain than it did earlier this week.
There was also the possibility that Wiig would end up in Freezing People is Easy, the new dramatic film to be made by documentarian Errol Morris. That one is also planing to shoot this summer, and seemed like less of a lock for Wiig.