'Star Trek' Sequel Lands In 3D May 2013, Michael Giacchino Will Return To Score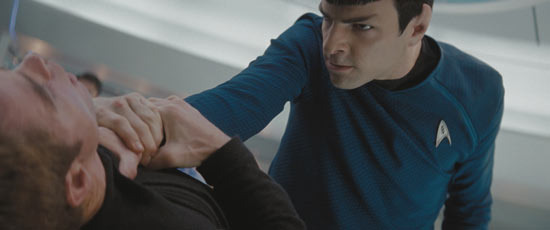 Here's the first reliable news we've had in some time on the sequel to Paramount's 2009 Star Trek. Studios have been doing some release date shifting today and with Sony pushing Roland Emmerich's delayed Singularity back to November 2013, Paramount has moved to grab the vacated May 17 2013 date for Star Trek 2.
So the movie that J.J. Abrams will direct based on a script by Abrams, Damon Lindelof, Alex Kurtzman and Roberto Orci will be in prime tentpole position for the summer season in 2013. And the report is that the film will be made in 3D, though we've got no other real info on that point just yet. Just imagine all the lens flare with an added visual dimension!
We've got another tidbit about the sequel, after the break.
In addition to Deadline's release date scoop. ComingSoon talked to film composer Michael Ciacchino, who said "yes, I'll be back," when asked about scoring Trek 2. "I'll be there just as soon as they finish it," he said.
We don't know exactly when that will be, but the May 2013 release date gives us some timeline. We've heard that the film will start to shoot on January 15 2012, but that hasn't been confirmed. (An email to Paramount went unanswered, which is notable, since the studio would normally fire right back if they had an outright denial to offer.)
The main cast from Star Trek (Chris Pine, Zachary Quinto, Zoe Saldana, Karl Urban, Simon Pegg, John Cho, and Anton Yelchin) will all presumably return. Until we know anything real about the storyline, that's all the cast we can legitimately guess, but there is one other name: Benicio Del Toro is reportedly Abrams' choice to play the main villain. That lead to great supposition about the return or reinvention of classic Trek villain Khan, previously played by Ricardo Montalban.
Star Trek 2, by the way, could very well be called something else, but until we've got a real title we'll continue to use that placeholder.