Aaron Sorkin "Strongly Considering" Sony's Biopic Of Late Pal Steve Jobs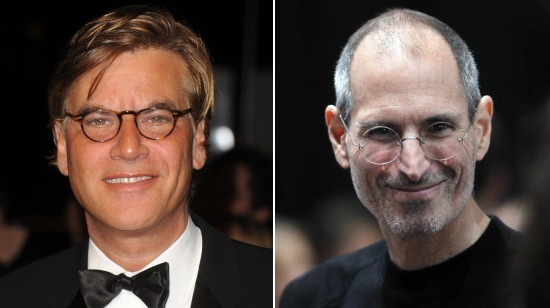 About a month after we first reported that Social Network and Moneyball screenwriter Aaron Sorkin was being courted to write Sony's Steve Jobs biopic, the scribe has said that he is "strongly considering" taking the studio up on its offer. While that's not exactly a confirmation that Sorkin will actually do the project, the fact that he's talking publicly about it seems like a step in the right direction, right? More details after the jump.
Sorkin commented on the Jobs project during the recent P.S. Arts Express Yourself 2011 event in Santa Monica, California. "Sony has asked me to write the movie and it's something I'm strongly considering," he told E! (via The Hollywood Reporter). However, the scribe was careful to stress that he had not yet made a decision. "Right now I'm just in the thinking-about-it stages," he said. "It's a really big movie and it's going to be a great movie no matter who writes it."
Sony snapped up the rights to Walter Isaacson's biography Steve Jobs in a $1 million deal just days after the Apple co-founder's passing on October 5. While the move may have appeared crass from an emotional perspective, it was definitely savvy from a business one: Isaacson's book immediately jumped to the top of the bestseller lists upon its release a few weeks later, selling 379,000 copies in its first week. Based on dozens of interviews with the Apple co-founder as well as hundreds more with Jobs' loved ones, competitors, and colleagues, Steve Jobs covers the late tech icon's life from childhood all the way through to his legacy.
Sorkin seems like an unusually great pick to adapt Jobs' tale for the big screen, and not just because he's an Oscar-winning writer. The two were friends in real life, giving Sorkin the personal insight to pen what could be an unusually intimate portrait of Jobs. Then there's also the fact that Jobs, on the surface, was so much like a quintessential Sorkin character — brilliant, driven, hard-working, and (not to speak ill of the dead, but) a bit difficult.
Discuss: Do you like Sorkin for the biopic? Also: Because THR apparently enjoys a good round of fantasy-casting as much as we do, the publication asked veteran casting director Sharon Bialy her picks for the lead. Bialy came back with Andrew Garfield, Shia LeBeouf, or Ashton Kutcher (?!!) to play Jobs in his younger years, and Keanu Reeves, Ralph Fiennes or Noah Wyle for the grown-up version. What do you think?