Ridley Scott's 'Prometheus' Photos Revealed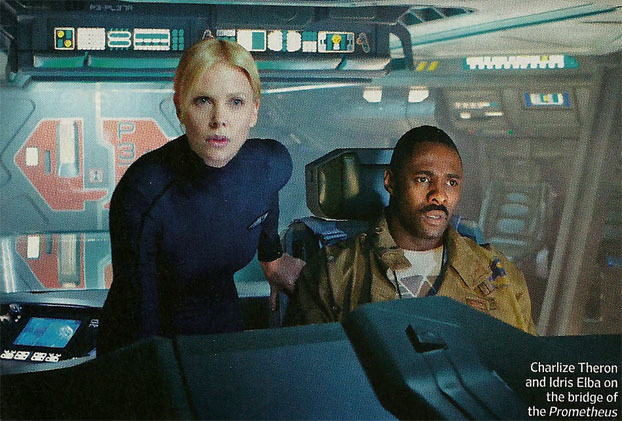 You want Ridley Scott's Prometheus? Well here's your best taste yet. This week's issue of Entertainment Weekly has a feature on the highly anticipated Summer 2012 film and scans revealing character costumes, sets and more have leaked online. If you think that above image was cool, you ain't seen nothing yet. The images are after the jump.
Thanks, of course, to Entertainment Weekly for the images and Shock Till You Drop for this nice scans.
Let me be the first to say, "Ohmygodwhatisthatheadlookatthatsuitholycrapthisisgonnabeawesome!"
Sorry, I'm kind of freaking out here. Since seeing the first official image at Comic Con, and then the awesome sizzle reel that has yet to be released, I've been dying to see more of Prometheus, which will tie in with the Alien universe. A trailer should be out relatively soon which will give audiences an idea of what they're in for in June 18 but, for now, these photos will have to do. The giant head in particular is creepy and awesome and raises more questions than it answers.
Here's the current plot summary for Prometheus, which is directed by Ridley Scott, written by Damon Lindelof and Jon Spaihts and starring Noomi Rapace, Michael Fassbender, Charlize Theron, Idris Elba, Sean Harris, Kate Dickie, Rafe Spall, Logan Marshall-Green, Guy Pearce, and Patrick Wilson.
Ridley Scott, director of "Alien" and "Blade Runner," returns to the genre he helped define. With PROMETHEUS, he creates a groundbreaking mythology, in which a team of explorers discover a clue to the origins of mankind on Earth, leading them on a thrilling journey to the darkest corners of the universe. There, they must fight a terrifying battle to save the future of the human race.
What do you think?