Akiva Goldsman And Ron Howard Developing Doc Holliday Western For HBO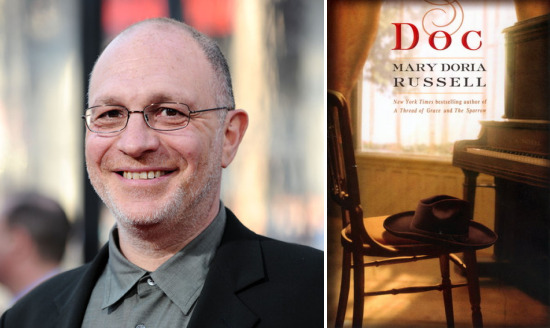 It feels like just about every network on TV has a Western project in the works by this point, but one of the most recently announced ones also sounds like it could be one of the most promising. Ron Howard and Akiva Goldsman are slated to team up for a Western drama about Doc Holliday, the legendary gambler and gunslinger known for his friendship with Wyatt Earp and his involvement in the Gunfight at the O.K. Corral. The project is an adaptation of Mary Doria Russell's acclaimed novel Doc, which was released earlier this year. More details after the jump.
Russell's novel centers around Holliday, who's usually overshadowed in Western tales by his pal Earp but was a fascinating figure in his own right. As a young Southern gentleman, Holliday moves to the Texas frontier in an effort to regain his health. Once there, he turns to professional gambling to support himself, and falls into a love triangle with a beautiful, intelligent prostitute named Kate and his best friend Wyatt Earp.
Given the series' home and subject matter, comparisons to the late, great Deadwood are inevitable. And while it likely won't satisfy those still missing Al Swearangen, the new project sounds like it could be pretty great all the same. True, Howard and Goldsman's Angels & Demons and The Da Vinci Code weren't exactly creative smashes, but the duo have also collaborated on Cinderella Man and A Beautiful Mind. In addition, Goldsman has served as writer, director, and consulting producer on Fox's Fringe. For her part, Russell has been earning favorable reviews for Doc ever since it was published in May.
HBO's Doc Holliday drama joins several other Western shows currently in development, including ABC's Hangtown, Fox's Wyatt Earp project, NBC's 1880s-set Kerry Ehrin series, TNT's Gateway, and CBS' The Rifleman reboot. That's on top of existing series like AMC's Hell on Wheels, which gave the network its second-biggest premiere ever (after last year's The Walking Dead) and FX's contemporary Western Justified.
Meanwhile, Westerns in general and Holliday and Earp in particular thriving on the silver screen as well. Earlier this year, Warner Bros. picked up the spec script Wild Guns, about the duo's post O.K. Corral adventures, while Val Kilmer and Wilson Bethel are set to play the pair in the indie film The First Ride of Wyatt Earp.