'The Rep' Trailer: A Documentary About Repertory Movie Theaters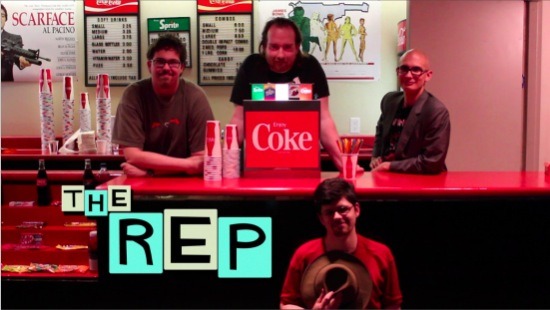 No matter how many times you've seen a movie, you've never truly seen it unless you've seen it on the big screen. Cinema was created to be seen in a theater with a group of people. It's an experience. An event. And with modern technology, that cultural legacy is slowly slipping away. Not at repertory theaters, though.
Repertory theaters are theaters that primarily show classic movies the way they were meant to be seen. On the big screen. You've read about a bunch of them here on /Film. The Alamo Drafthouse in Austin, Texas. The New Beverly in Los Angeles, California. Film Forum in New York. These theaters, among others, build a reputation on showing fantastic old movies every single night. These days, though, people care less and less about old movies and repertory theaters are struggling to stay afloat.
That's the focus of an in-production documentary called The Rep. Originally conceived as a web series, it's now being developed into a film about three friends who attempt to start a repertory theater in Toronto while exploring some of the best ones from around the continent. Featuring interviews with Kevin Smith, Edgar Wright, John Waters and more, you can watch a trailer after the jump.
Here's a trailer for The Rep.
What is a Rep? – Trailer #1 for The Rep: A Documentary from Morgan White on Vimeo.
The film is currently still in production, but, if you head over to the film's official website – www.therepseries.com – you can read, and watch, much more about it, including all the episodes of the series.
Here's a description of the film:
The Rep follows the first year of business for Alex, Charlie, and Nigel as they try to make their theatre, The Toronto Underground Cinema, a success in the dying world of repertory cinema. The film also places the cinema in context to the larger world of rep. Featuring interviews with theatres such as Film Forum in NYC, The Alamo Drafthouse in Austin, and The New Beverly Cinema in L.A., and celebrities such as Kevin Smith, Edgar Wright, John Waters, Atom Egoyan, and George A. Romero, the world of repertory cinema will come alive as a vibrant and culturally significant medium that needs to be preserved.
Maybe it's because I love attending repertory theaters so much, but I got chills watching that trailer. What do you think?