Directing Bits: Julie Delpy For Joe Strummer Biopic, 'Harold & Kumar Christmas' Helmer For 'Final Girls', Tate Taylor Drops Out Of 'Tammy'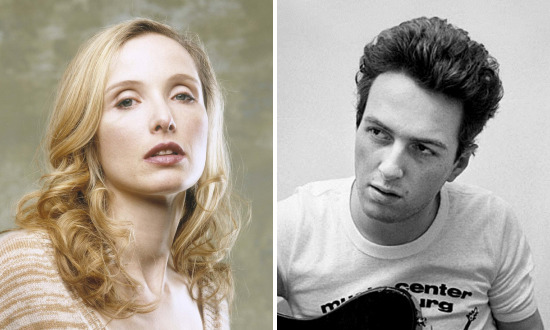 Even as Julie Delpy gears up for a possible third Before Sunrise pic with Ethan Hawke and Richard Linklater, the busy writer-director-actress has attached herself to helm a biopic of iconic rock musician Joe Strummer called The Right Profile. Strummer is best remembered as the frontman of British punk group The Clash, though his musical resume also includes solo work, stints with The Mescaleros and The Pogues, and the soundtracks for Walker and Sid and Nancy. (The film is named after this Clash song, from London Calling. The tune even points back to the movies, with lyrics about '40s film star Montgomery Clift.)
Few details about the project have been revealed at this time, though we do know the film will follow Strummer's disappearance from the public spotlight in 1982. Variety notes that Delpy could appear in the picture — seeing as she's acted in nearly all of her directorial efforts, including the recently wrapped 2 Days in New York — but as far as we know, that's just speculation at this point.
After the jump, A Very Harold & Kumar 3D Christmas helmer Todd Strauss-Schulson finds his next project, while The Help director drops out of Melissa McCarthy's Tammy.
Described as "a mix between Back to the Future and Friday the 13th," Mark Fortin and Josh Miller's script revolves around Max, who's mourning the death of her ex-scream queen mom. When Max and her friends suddenly find themselves sucked into one of her mom's movies, they reunite with Max's mother and struggle to fend off the attacks of a crazed murderer. [Variety]
A couple of months ago, I was excited to hear about the possibility of a collaboration between two of this year's most buzzed-about figures — The Help director Tate Taylor and Bridesmaids star Melissa McCarthy — but alas, it seems that match wasn't meant to be. Taylor was circling McCarthy's comedy script Tammy for some time, but has now decided not to direct the picture after all. Had Taylor signed on, it would've marked a reunion for him and McCarthy, who previously worked together on Pretty Ugly People.
Written by McCarthy and husband/Bridesmaids co-star Ben Falcone, Tammy revolves around a woman who realizes one day that her life is falling apart. She then decides to take off on an impromptu road trip to Mount Rushmore, with her foul-mouthed grandmother in tow.
While it's disappointing that McCarthy and Taylor won't be teaming up after all, there's no reason to worry about either his fate or the project's. Given how hot McCarthy is at the moment, I'm sure it's just a matter of time before Tammy lands another director, and Taylor surely has plenty of options in the wake of The Help's success. [Variety]