'Sherlock Holmes: A Game Of Shadows' Could Have 'Dark Knight Rises' And 'Hobbit' Trailers Attached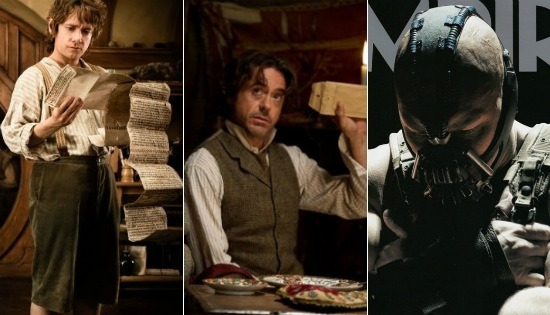 2011 has already been a pretty good year for Warner Bros. They had the biggest opening of all time, as well as the highest grossing film of the year, in Harry Potter and the Deathly Hallows Part 2. The Hangover Part II was the biggest R-rated comedy of all time and one of the year's highest grossing films as well. While WB has a few more major releases on track for the final six weeks of the year, it's time to look ahead to a huge 2012. The Dark Knight Rises and The Hobbit: An Unexpected Journey are two of the highlights and what better way to promote them then with Warner's biggest holiday release?
Rumor has it that not only will there be a new Dark Knight Rises trailer in front of Guy Ritchie's Sherlock Holmes: A Game of Shadows, which opens December 16, but also the first teaser trailer for The Hobbit: An Unexpected Journey. Read more after the jump.
Since the prologue for The Dark Knight Rises will be attached to IMAX prints of Mission: Impossible Ghost Protocol on December 16, releasing a theatrical trailer at that time makes perfect sense. As for The Hobbit, one of the film's stars – and second unit director – Andy Serkis mentioned we'd get our first look at the film in December and since Sherlock is Warner Bros. only big budget film released that month (they also have Extremely Loud and Incredibly Close, which doesn't fit the demo) it's a safe bet this is where it would show up.
Plus, Jeff Sneider from Variety reported it too. Thanks to Collider for the heads up.
To be honest, Sherlock Holmes: A Game of Shadows has hardly registered on my radar this holiday season with so many other movies coming out. It's a huge movie to be sure, but the marketing hasn't made it look much different from the original. That said, with those two trailers attached, it'll be the second thing I see that weekend – after Mission: Impossible in IMAX of course.