'Game Of Thrones' Season 2 Production Trailer Reveals Stannis, Melisandre, Margaery, And More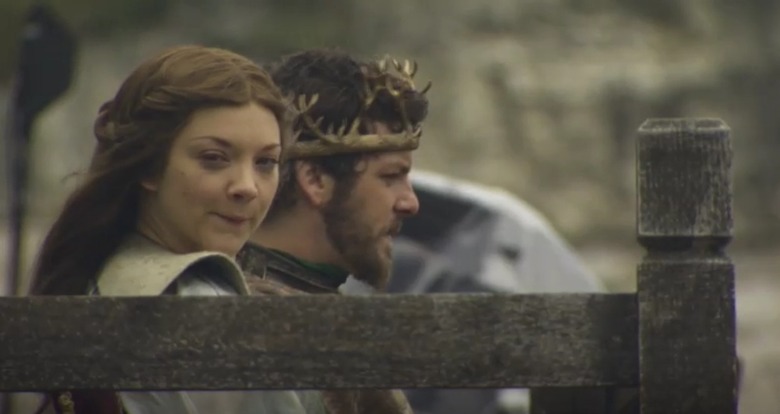 After months of casting news and hilariously unrevealing teasers for Game of Thrones, we finally have a real look at some footage from Season 2. HBO has released a behind-the-scenes featurette about the making of the upcoming season, and though we still don't get to see a whole lot, we do get some good glimpses of returning characters like Arya (Maisie Williams) and Catelyn (Michelle Fairley), as well as new ones including Margaery (Natalie Dormer), Melisandre (Carice van Houten), and Stannis (Stephen Dillane).
Plus, series creators David Benioff and D.B. Weiss are on hand to talk in pretty general terms about the challenges and rewards of filming the show's second season. Watch the mostly spoiler-free video after the jump.
[via Deadline]
Aside from the fact that everyone looks good, there's not much to learn from this teaser. Still, it's great to see these familiar faces again after their long absence. Yes, even you, Jon Snow (Kit Harrington). Though I do hope you'll consider being a little less whiny this season.
The ten-episode second season of HBO's hit epic fantasy series is slated to return April 2012, about one year after this spring's series premiere. The storyline this season will be based on A Clash of Kings, the second book of George R.R. Martin's A Song of Ice and Fire series, and will pick up where last season left off, with the Seven Kingdoms falling into further unrest as various families and individuals vie for power.
Much of the first season cast will be back to reprise their roles, while a slew of newcomers have been announced during the off season including Gwendoline Christie as Brienne of Tarth, Liam Cunningham as Ser Davos Seaworth, Rose Leslie as Ygritte, Gemma Whalen as Yara Greyjoy (a.k.a. Asha Greyjoy in the books) and much, much more.