'The Pirates! Band Of Misfits' Trailer #2 – Claymation Hugh Grant Has My Vote For The Pirate Of The Year Award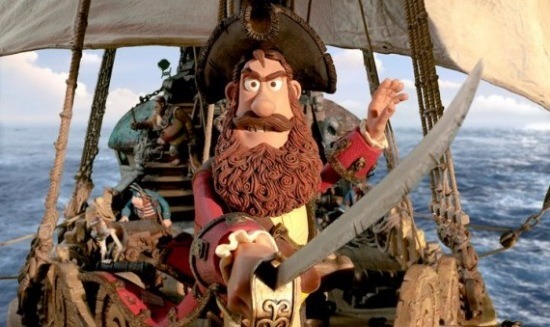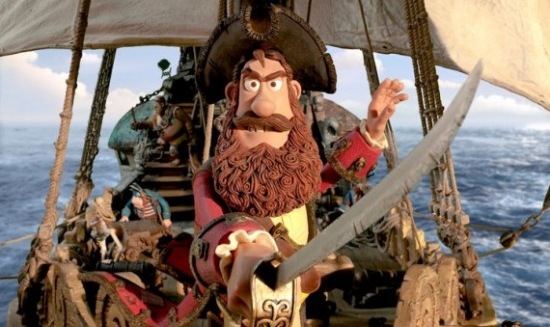 You'd be forgiven for suffering from pirate fatigue after this year's lackluster fourth entry in the Pirates of the Caribbean franchise, but these delightful trailers for Aardman Animation's The Pirates! Band of Misfits prove there's still plenty of fun to be found on the high seas.
Directed by Peter Lord and Jeff Newitt, the stop motion adventure follows an eager but misguided Pirate Captain (Hugh Grant) as he competes for the Pirate of the Year Award — because, as he explains, "Every time I've entered, I've failed to win. So, I must have a really good chance this time." Along the way, he and his similarly off-kilter crew (Martin Freeman, Brendan Gleeson, Russell Tovey, Ashley Jensen, and a fish with a hat on it) encounter all manner of strange characters including lepers, stuffy scientists, an evil queen (Imelda Staunton), and at least one monkey butler. Watch the trailer after the jump.
[via Cartoon Brew]
It's not my favorite trailer I've seen for the film (that'd be the first US trailer, which dropped over the summer) but I've enjoyed the hell out of all of these so far. And the fact that we're seeing some different jokes in each trailer bodes well for the picture, since it suggests this isn't one of those cases in which a crack marketing team has managed to extract just enough good moments to make a solid 2-minute ad. I look forward to finding out what else Pirates! has in store for me when it hits U.S. theaters March 30, 2012.
Synopsis:
Hugh Grant, starring in his first animated role, is the luxuriantly bearded Pirate Captain – a boundlessly enthusiastic, if somewhat less-than-successful, terror of the High Seas. With a rag-tag crew at his side (Martin Freeman, Brendan Gleeson, Russell Tovey, and Ashley Jensen), and seemingly blind to the impossible odds stacked against him, the Captain has one dream: to beat his bitter rivals Black Bellamy (Jeremy Piven) and Cutlass Liz (Salma Hayek) to the much coveted Pirate Of The Year Award. It's a quest that takes our heroes from the shores of exotic Blood Island to the foggy streets of Victorian London. Along the way they battle a diabolical queen (Imelda Staunton) and team up with a haplessly smitten young scientist (David Tennant), but never lose sight of what a pirate loves best: adventure!