Casting Bits: Sharon Stone In 'Lovelace;' Jacki Weaver And Alan Arkin In 'Wild Oats;' Ezra Miller Not In 'Akira'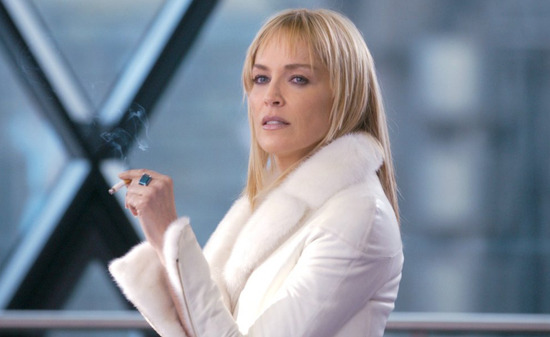 Sharon Stone was a big deal in the '90s thanks to Basic Instinct in 1992, but she's got a lower profile lately. She's been working very steadily, but it doesn't feel that way. I can't remember the last time I saw a memorable Stone performance. Probably either Broken Flowers ('05) or Alpha Dog ('06). Law & Order: SVU fans would probably point to her recurring role on that show. I don't know if anyone would point to Basic Instinct 2 ('06) even though the image above makes her appearance in that one look like a different version of the X-Men's Emma Frost.
She might get more attention playing the mother of a porn star. Stone is now set to play the mother of Linda Lovelace (possibly played by Amanda Seyfried) in Lovelace. That's one of two Linda Lovelace films in development right now, and the one that will be directed by Rob Epstein and Jeffrey Friedman (Howl). Peter Sarsgaard is in talks to play Lovelace's husband an accused pimp and abuser Chuck Traynor. Andy Bellin and W. Merritt Johnson scripted based on the book The Complete Linda Lovelace by Eric Danville. [AP]
(The other Linda Lovelace film is Matthew Wilder's Inferno: A Linda Lovelace Story.)
After the break, find casting info for an indie called Wild Oats, and Ezra Miller's denial that he has anything to do with WB's Akira.
Wild Oats is one of those indies that has to kick around for a while before finally locking down financing and getting the green light. The movie was originally announced with a cast of Shirley MacLaine, Maria Bello, Christina Ricci, John Corbett and Bill Pullman with Scott Marshall directing.
But Shirley MacLaine is the last woman standing from that version, and the version that might now get to shoot in January in Pittsburgh and Vegas will also feature Jacki Weaver (Animal Kingdom, and upcoming films Stoker and The Silver Linings Playbook) and possibly Alan Arkin.
Howard Deutch is now directing from a script by Gary Kanew and Claudia Myers. Variety sums up the script:
[MacLaine accidentally receives] a Social Security check in the amount of $900,000 instead of the normal $900. At the incessant urging of her best friend — portrayed by Weaver — she deposits the money and escapes the small Ohio town for Las Vegas — where their new life seems to be short lived when they discover that they have become media sensations and fugitives overnight, forced to outwit a trio of conmen and dodge Social Security agents.
Can I just say it? Grumpy Old Thelma and Louise. Thanks. I feel better.
Finally, Ezra Miller has laid to rest any speculation about his having a role in the upcoming Wonder Bread, er, Warner Bros. version of Akira. Reported to be on a shortlist testing for roles, Miller tells Movieline "That, I can assure you, will not be a reality. It's a beautiful Japanese epic and I think it'll be a very entertaining, fun film, but no, it's not my next move."
Miller's current film is the hotly-debated We Need to Talk About Kevin, the third film from Lynne Ramsay. Jeaume Collet-Serra will direct Akira, and Kristen Stewart, Gary Oldman, Garrett Hedlund and Helena Bonham Carter are all close to being set for the cast.