Ice Cube And New Line Want To Make A New 'Friday,' And Chris Tucker Might Even Return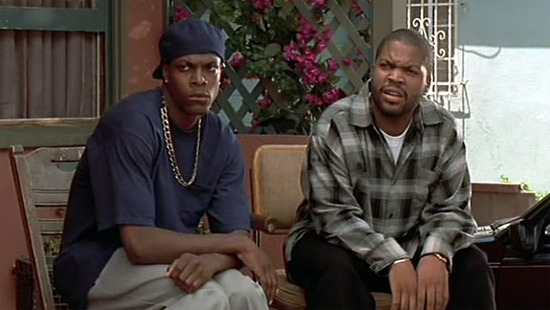 Friday hit theaters over fifteen years ago, truly launching the film career of Chris Tucker and serving as the first step in the transformation of Ice Cube from gangsta rapper and Compton's most vocal representative to family comedy guy.
Now New Line and Ice Cube are in talks to make a fourth Friday film. Two lesser sequels, Next Friday and Friday After Next, followed in '00 and '02, but Tucker sat both of those out. There are hints that he might be ready to reprise the role of Smokey, however, in this fourth film that Ice Cube would write, produce and topline.
The news first came from TMZ, which talked to Tiny Lister (who played Deebo in the first two Fridays) and learned that Lister is meeting with Cube and Tucker to talk about a fourth film. Deadline confirmed that Cube and New Line execs are, at least, sitting down and passing a joint around while talking about a fourth movie. (That joint may or may not be fictional.)
There is still reason to wonder if Tucker will really commit, as his religious beliefs make him unwilling to play the pot-smoking character again. But his IRS debt and the fact that he doesn't command the per-picture payday he once did might be important factors. And, hell, Smokey could be portrayed as reformed or something friendly to Tucker's mindset.
Talks of a fourth Friday have come and gone over the past decade, so don't be surprised if this goes away altogether. But if Tucker agrees to make the movie that could be all the push it needs to really happen.