'Brave' Trailer: A New Look At Pixar's Almost-Traditional Fairy Tale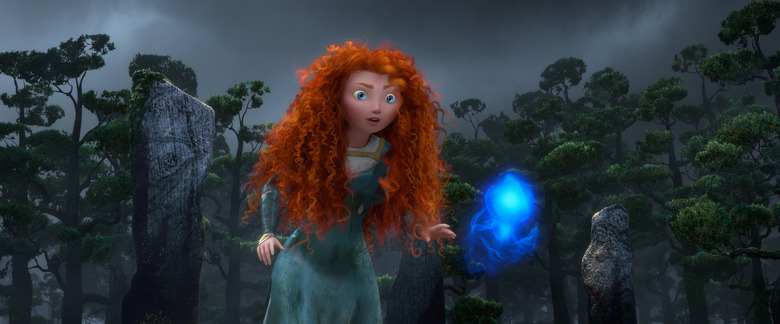 The teaser trailer for Pixar's Brave was an absolutely gorgeous thing that showed off the studio's first female lead, Merida, voiced by Kelly Macdonald.
Now here's the full trailer, which introduces us to the film's world and the gloriously exaggerated characters that inhabit it. This isn't one of Pixar's best trailer efforts, I think, but hopes for Brave remain high.
Apple has the HD version.
I'm of two minds here. One is that there are some very impressive moments here. The early voice-over is perfectly in keeping with the moody and impressive teaser. And some of the animation we see looks staggeringly great; Merida's hair alone will probably have animation fans losing their minds.
But this trailer is also an unstable thing with respect to tone. It goes in a few different directions, and I don't think it sells any particular vision of the movie very well. Much of what we see here seems to be first-act stuff, because what we know of the story suggests that Merida taking the chance to change her fate is what really puts the story in motion. So I'm heartened by that fact. But I'd like to see a much better trailer for a movie that I hope will live up to what we've come to expect from Pixar.
Brave hits theaters on June 22, 2012. Check out the teaser trailer here.
Since ancient times, stories of epic battles and mystical legends have been passed through the generations across the rugged and mysterious Highlands of Scotland. In "Brave," a new tale joins the lore when the courageous Merida (voice of Kelly Macdonald) confronts tradition, destiny and the fiercest of beasts.
Merida is a skilled archer and impetuous daughter of King Fergus (voice of Billy Connolly) and Queen Elinor (voice of Emma Thompson). Determined to carve her own path in life, Merida defies an age-old custom sacred to the uproarious lords of the land: massive Lord MacGuffin (voice of Kevin McKidd), surly Lord Macintosh (voice of Craig Ferguson) and cantankerous Lord Dingwall (voice of Robbie Coltrane). Merida's actions inadvertently unleash chaos and fury in the kingdom, and when she turns to an eccentric old Wise Woman (voice of Julie Walters) for help, she is granted an ill-fated wish. The ensuing peril forces Merida to discover the meaning of true bravery in order to undo a beastly curse before it's too late.