TV Bits: 'Community' Gets Benched, Plus: 'Mad Men', 'Luck', 'Weeds', 'House Of Lies', And More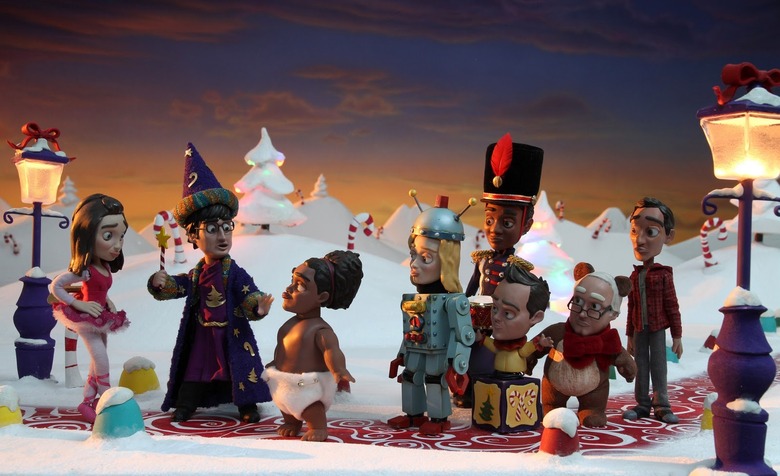 There's plenty of good stuff in today's TV Bits, including new trailers for HBO's Luck and Showtime's House of Lies, which I'm hoping will help the one bit of really bad news go down a bit easier: NBC's benching its highly praised but under-watched Community. After the jump:
NBC puts Community on hiatus and picks up new show Legends
HBO's Luck, starring Dustin Hoffman and Nick Nolte, gets a trailer
Showrunner Matthew Weiner reveals how he wants AMC's Mad Men to end
Showtime renews Weeds and drops a teaser for House of Lies
NBC's mid-season shuffle will also see first-year comedy Whitney pushed from its cushy post-Office position to the much trickier Wednesday 8 PM spot, while Up All Night will move from Wednesdays to Whitney's old Thursday 9:30 PM slot — where it should have no problem fitting in with all the other single-camera comedies in that programming block. Up All Night will be followed by the mid-season newcomer The Firm, which will replace the benched Prime Suspect. [New York Times and Screened]
Meanwhile, NBC's looking farther down the road still with its recent acquisition of Legends, a drama pilot from former 24 showrunner and Homeland co-creator Howard Gordon and Homeland director Jeffrey Nachmanoff. Nachmanoff will direct Legends from his own script, which revolves around an undercover agent who dons "legendary" identities for his job, but comes to learn that what he believed to be his true identity may be a lie as well.
Nachmanoff's previous credits also include the screenplays for Roland Emmerich's The Day After Tomorrow and the Arnold Schwarzenegger-starring The Last Stand. [Variety]
HBO has unveiled a brand-new trailer for Luck, its upcoming horse-racing drama from Deadwood creator David Milch and director Michael Mann. The series boasts an all-star cast that includes Dustin Hoffman and Nick Nolte, among others. Watch the trailer below:
As we recently reported, the series will launch January 29, 2012, but it'll get an early premiere Sunday, December 11 following the Season 2 finale of Boardwalk Empire.
Mad Men creator Matthew Weiner is notoriously tight-lipped when it comes to upcoming developments for Sterling Cooper Draper Pryce and its associates, but during a recent interview with Grantland he offered up an intriguing tidbit about where we could expect to see the series ending in its seventh and final season: not with a fart, but with an 80-something Don Draper in the present day:
I do know how the whole show ends... It came to me in the middle of last season. I always felt like it would be the experience of human life. And human life has a destination. It doesn't mean Don's gonna die. What I'm looking for, and how I hope to end the show, is like ... It's 2011. Don Draper would be 84 right now. I want to leave the show in a place where you have an idea of what it meant and how it's related to you. It's a very tall order, but I always talk about Abbey Road. What's the song at the end of Abbey Road? It's called 'The End.' There is a culmination of an experience of people working at their highest level. And all I want to do is not wear out the welcome. I was 35 when I wrote the Mad Men pilot, 42 when I got to make it, and I'll be 50 when it goes off the air. So that's what you're gonna get. Do I know everything that's gonna happen? No, I don't. But I just want it to be entertaining, and I want people to remember it fondly and not think it ended in a fart.
The AMC drama's fifth season will premiere March 2012. [via Videogum]
A fun new teaser has dropped for Showtime's upcoming series House of Lies, which stars Don Cheadle as a successful but self-loathing management consultant. Veronica Mars and Jean-Ralphio — I'm sorry, Kristen Bell and Ben Schwartz — also star, with Josh Lawson, Dawn Oliveri, Glynn Turman, and Donis Leonard Jr. Check it out below:
[Deadline]
And finally, Showtime has renewed Weeds, its longest-running series, for a 13-episode eighth season. Though the show no longer gets the acclaim it did in its earlier seasons, it remains quite popular — Weeds is the network's most watched comedy. The new season will begin enter production and premiere in 2012. [Deadline]